THE BOTTOM OF THIS PAGE
CONTAINS TOJ SPOILERS.
YOU ARE ON YOUR HONOR NOT TO READ AHEAD, WHERE YOUR ST HAS NOT TOLD YOU TO.
This page is here to address whatever changes, rules or concerns may arise during the course of this Chronicle following White Wolf's Time of Judgment story.
This page contains numerous spoilers as well, and we must insist that players not peek ahead and ruin the story.

"There was thunder, there was lightning, then the stars went out and the moon fell from the sky; it rained mackerel, it rained trout, and the great day of wrath has come, and here's mud in your big red eye; the poker's in the fire and the locusts take the sky and the earth died screaming while I lay dreaming of you..."

-- Tom Waits's "Earth Died Screaming"
---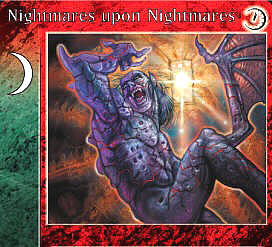 Yes, we are using Time Of Judgment in this Chronicle, starting September 2004. We will continue to host a game at the end of the TOJ story, using the New World of Darkness 2.0 system. For more information on the new game, please refer to the NWOD/2.0 Rules pages.
Those who show excellence in RP facing TOJ will be given some manner of reward at the close of TOJ, such as extra experience or first pick of a coveted character role in 2.0. We want to give something to those players who were good sports and faced "the end" in some notable way.
July 2005:
There is a moratorium on Supernatural PC's while TOJ is going on because the nature of the storyline makes integration difficult. Please see the Genres web page for current info on what genres are open. You may apply to play a supernatural NPC that appears on the Genres rules page.
We do not guarantee any new PC's created during that time will automatically survive just because they are new, either. Sorry.
Once TOJ is over, new PC's will be mortal until we open up the other genres, then policy for new PC's will be set at that time.
---
You want to put some kind of explanation on all this? Here's one as good as any other. We're bein' punished by the Creator. He visited a curse on us. Maybe He didn't want to see us blow ourselves up, put a big hole in the sky. Maybe He just wanted to show us He's still the Boss Man. Maybe He figure, we gettin' too big for our britches, tryin' to figure His shit out.
-- John, in Romero's "Day of the Dead"
---
PLEASE STAY OFF THE BELOW PAGES UNTIL THE ST DIRECTS YOU TO READ THEM! ANYONE CAUGHT METAGAMING WILL BE HEAVILY DOCKED EXPERIENCE POINTS OR POSSIBLY LOSE YOUR CHARACTER!
GENERAL KINDRED CANON NPC's

(posted for Player reference. All Characters © White Wolf, Inc.)

Calebros
Constancia
Dr. Douglas Netchurch
Fatima al-Faqadi
Hardestadt (Elder & Younger)
Helena aka Portia
Hesha (aka Ruhadze)
Isabel Giovanni
Jan Pieterzoon
Khalil Ravana
Lord Jurgen von Verden
Lucita

Marcus Vitel (aka Lucius Aelius Sejanus)

Ramona

Sascha (Myca) Vykos (Angel of Caine)

Smiling Jack

Theo Bell

Victoria Ash
---
If we do not live, speak and think in the language of enchantment, including naming angels and recognizing spirits…then the soul will go out of our lives and communities, and we will wonder why nothing seems to hold together and nothing seems to have value any more.
~Thomas Moore
| | | | | | |
| --- | --- | --- | --- | --- | --- |
| FAE CANON NPC's: | Countess Anne | Dice | Duke Dray | Duke Topaz | Tuatha de Danaan |
---
For the Werewolf: the Apocalypse ending
please go HERE:
---
For the Mage: the Ascension ending
please go HERE:
---
For the
Changeling: the Dreaming, Demon: the Fallen, Hunter: the Reckoning, Kindred of the East, Mummy: the Resurrection, and a coda to Wraith: the Oblivion endings, please go HERE:
| | | | | |
| --- | --- | --- | --- | --- |
| WRAITH CANON NPC's: | Eric | Lord Ember | Slander | Sock Girl |
---
Punishment for intolerance, so entertain us

when you're still able to perform

I'm sorry to admit that I won't be around,
when the world you created will collapse and drown
back to the crypt, nothing will last,
we'll all fade away in one single blast
out from the dust, machines arise,
one second left to live, and we'll open our eyes

I can't find shelter in this world
I'm searching for another world where I feel safe



-- "Shelter" by Icon of Coil ("Machines are Us" album)
---
LINKS: Another Gehenna game: http://www.geocities.com/demon_thefallen/gehenna/

All Gaming Sourcebooks & Materials for this campaign are
© 1990-2005 White Wolf Publishing, Inc. All rights reserved.