LOCAL CULT BUTTS HEADS WITH MAYOR - NORTHEAST: A group of members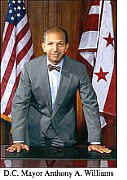 of a local religious organization, which the Mayor's Office has referred to in complaints filed with police against its members for being "degenerates" and harassing several of his staff with various inappropriate demands, as a Cult, have filed a counter-suit for slander and persecution by local law enforcement authorities, citing parallels between their treatment and other such unsavory incidents as the Branch Davidian compound standoff with the FBI. The group, called the Church of Abaddon Ascendant, has set up shop on a private 10 acre tract just outside DC limits, but has continually run afoul of the law both in DC and MD since they moved in some months back. Spokespersons for the Mayor's Office had no further comment at this time.
---
---
ENTERTAINMENT
---
CHARITY CONCERT A SELL-OUT BUT NOT A SELLOUT - SOUTHEAST: The glitterati of DC were out in full force at the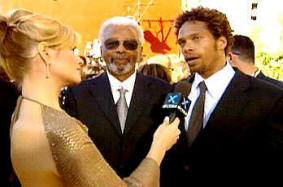 dually-sponsored Charity Concert hosted by Web of Night's NSA Productions and MC Nomad, and The Phantasm's Sean Brennan. Washington music venues Web of Night and The Phantasm banded together with numerous local and national artisans and acts to present a summer spectacular, all-day and night event, the proceeds of which will be donated to support DC charitable organizations.
Brennan, Nomad, and many of the other personalities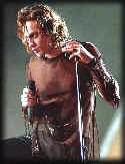 helping put the event together, acknowledge that while Washington is a wonderful city to live in and be a part of, it is also becoming increasingly troubled in recent months. Crime of all types appears to be on the rise, and they feel that a lot of it comes from lack; lack of money, lack of material needs, lack of education, lack of health care, lack of self-esteem, lack of stability, relationship, family and community.

Bartending Staff include

d Jane Smith (formerly of Capital Hill Country Club & The 11th Hour Lounge), and Jason MacGrey from The Web.

Also on Hospitality Staff were co-hosts Abercrombie & Fitch model

Jaymes Lovier, socialite Ashley Peterson and adult entertainer Sylvia Saint.
On Security was Georgetown Football Star Robbie Jones and Blade Jefferson, Security for "Rabble".
Vendors included Allison Millington Photography,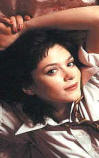 Clear Skies Charter Flights, Dangerous Visions Occult Books, Paul's Auto Customizations, S & T Custom Bike Works, and Touch of Peace Yoga.
In between sets, music was provided by The Web's newest regular, DJ Mini-Me.
First up was the meek of demeanor, but not of talent, violinist Osrel, heretofore unknown in the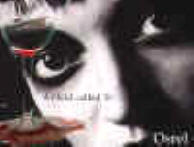 DC music scene. The young man superbly performed an original, unnamed piece on Violin, accompanied by M. Louis Delacourt on piano. (OOC note: Os had a 5 succ perf; Louis had 4). An excellent start to what was to prove to be an almost never ending chain of Magnus opii in the name of altruism.
Following this introductory act, the first item of the auction went up for bids, and did things ever heat up. In fact the vying went on so long that the remainder of the auction had to be postponed for running overtime (DC law required the venue to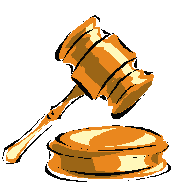 close at 2 a.m.). A personal, private tour by plane courtesy of Ashar Grey of Clear Skies Charter Flights, started bidding at $50.00, but the stakes soon skyrocketed in a fierce three way bidding war. Up and coming Rap crew 1200 Murdered Brothers put in the winning bid of $3250.00 for the tour, and then secretly turned around and resubmitted the tickets for re-auction, simply allowing the money to go in toto to charity. Front-man Oakley has been on a recent shift in the direction of the band, leaning to more benevolent uses of the power of music.
Following the heated competition of the auction, came the prestidigitation of

Professor Aephestus, Stage Magician & Mentalist. Lady Helen Fairfield, there with her reunited band Box O'Rocks, volunteered to help the Professor through a handful of fairly pedestrian mind magic tricks involving magnetism. After her assistance, Aephestus was joined by local theologian and Smithsonian staffer Adam Joseph, in an attempt to discern information from Joseph's ID that did not seem to go off as planned. The act soon ended to lukewarm applause, but the mood of the crowd was so buoyed that it did not detract much.
Since Lady Fairfield already was testing the proverbial waters, next up was her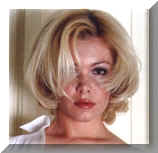 royal self, reunited with her old Punk Rock Band, Box O'Rocks (as in dumb as a...). But these ladies: Fairfield, who went by "Ripple" back in the day, on bass; with Kim, DeLaRose, Suzie and Jake, are nothing but dumb. The Rocks can still rock. Dressed in matching variants of leather and denim, the girls started off with a song called "nameless," a raw instrumental piece that got the friendly crowd on their feet and thrashing around. Following that, the Rocks' Jake wrote a new tune for their reunion, called "Baby Blue This is a Red Letter Day," which was a killer song in its own right but especially amusing was hearing Fairfield scream "F*ck" in the course of the lyrics. Such language from such a dainty, well-bred mouth... was a lot of fun!
Next up after the girls, came local rap crew Sultan Homicide & the 1200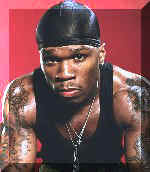 Murdered Brothers, with MC's Rickety B and Ali Boombaya. The stage reminded us of a more rehearsed, polished version of the old school Detroit Rap Battles eulogized in the movie "8 Mile," but the crowd was into it. The Sultan and founding crew member MC Rickety B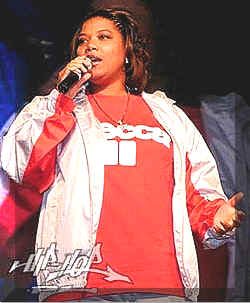 (who is not just female, she is a sistah following in the church of Latifah and then some) took the stage in a traditional free-style battle, with Rickety B starting off. Both her and the Sultan flowed some smooth, well-crafted lines, swiping at each other's personal lives of course, but that's how it's done. (OOC was a 4 succ perf.) The crowd was laughing with them by the end of the diss-fest, eating it up. The pair almost seemed like beloved siblings play fighting. It ain't NWA, but then again what is these days.
Changing the flow significantly, we next went back to the more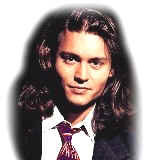 dignified offerings, returning Monsieur Louis Delacourt to the stage, solo this time, at least for the moment. He began with one of Mozart's lighter piano sonatas (OOC: 3 succ perf.), not one of his best but still pleasant, decently done. Perhaps he was just warming up for his charming partner in crime, Aki Oshii, who joined him for the next number, a vocal duet, "Without You" from Larson's musical "Rent." (OOC: Aki = 4 succ perf., Louis = 6 succ.) The pair gave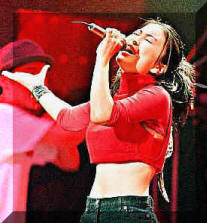 us an inspiring reminder of why Broadway, Blues and Jazz are the meat and potatoes of their frequent appearances in the Nation's Capital, and inspiration that the French used to be good for something besides the Statue of Liberty and wine. Delacourt then leaves the stage, segueing Oshii into another duet, this time with recently discovered (at The Phantasm) Romani guitarist Jorsca Loupyn. They performed a song that at first glance seems a departure for both parties; "Bloodletting" by Alt Rock alumni Concrete Blonde, but the dirty Delta-blues riff and predatory lyrics were a treat, and a good fit for them both. (OOC Aki = 5 succ, Jorsca 6 succ performance). Then, as if this wasn't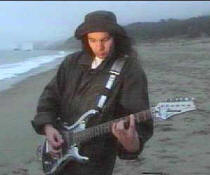 enough of an experimental evening, the duo move into an even more unusual offering: their own rendition of The Who's "Behind Blue Eyes," taking a lesson from the errs of Fred Durst and refraining from rewriting what did not need it. It's unusual coming from a contralto but the original key is well in Oshii's range, and Loupyn is right at home with classic rock. (OOC: Aki and Jorsca both had a 6 succ. perf.)
Keeping in the rock vein, next up was new Web of Night bartender Jason MacGrey and his side project band, Deep Reign. They presented an Alice in Chains cover, "Down In A Hole." MacGrey's vocals were nothing to write home about (OOC: 2 succ) but his guitar work was holding the high bar of excellence set by those gone before him tonight (OOC: 5 succ).

Settling things back down once more, rising street poet Scotty Goldman gave a brief reading from the collection that was soon to be accepted for inclusion in "Beltway" Quarterly Anthology. (OOC: Brett wasn't able to stay but that is what he declared would happen).
In keeping with the "Storyteller" vibe, next came on a relatively, and unfortunately hitherto unknown Spoken Word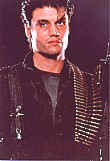 artist, an Irishman simply billed as "Séamus." Unlike many of the more upbeat, or at least social offerings, this one was more solemn, though the man gave off the most incredible vibe that commands respect than has graced a podium in this city in decades. Imagine Kenny Rogers after a 3-week bender of cigars and bourbon... but charisma off the charts. "I do not offer you a song of comfort," he warns us. His poem was by William H. Auden's "The Shield of Achilles." (OOC: 8 succ performance) The man's voice, haggard though it was, was pure magic. It would have to be, to transform a piece so somber and funereal into a work of tear-jerking, poignant art. But he managed, leaving the room in too much awe to even clap when he strolled off stage into the darkness. This stark and modest offering is still likely to be fondly remembered for years to come.
Lightening the mood, not that this is hard after such an intense recitation, is none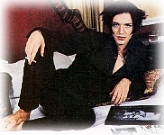 other than Web regular, Goth-rocker Loki. He opens with an oldie from his first album, Fire. (OOC: 6 succ on both guitar & vocals). For his closing number, he did a new piece recently completed called "Gold", though he seemed to be showing signs of the lateness of the house. By no means unpleasant, but not the breathtaking rendition of more familiar work (OOC: 4 succ vocals & guitar).
And speaking of breathtaking... We really don't have words, at least in English, to describe the incredible experience of the final act. Taking the stage finally is none other than co-host Sean Brennan of the Phantasm...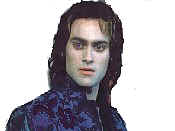 and whatever the makeup and costuming people did, please do it again, because he hasn't looked this completely and unabashedly edible since that famous debacle tryst with Gabby Wildwood at Bound. Brennan, clad all in skintight black, his almost violet, dreamy eyes visible even from stage, glided the audience as gently as a lover's hand into his first number, a violin instrumental that plucked our heart strings at first, then lifted us up into a rousing Celtic-influence medley that had the building shuddering with the thunder of feet and hands keeping time. This was far more magnificent than Riverdance, than any musician in the genre we can think of. (OOC: 12 succ perf) But just when he set our blood racing, he wasn't nearly done.
Brennan then makes his famous black and violet violin, to be auctioned off in just minutes, sing for us, a haunting yet familiar melody from the Celtic isles... and then, off stage, ethereal and angelic, joins in the clear, bell-like coloratura soprano of yet another mysterious but stellar performer that either Brennan or Nomad managed to mine out of the depths of secrecy in DC... The tune being "Be Thou My Vision" (OOC: 6 succ perf) but in Irish (Bí Thusa mo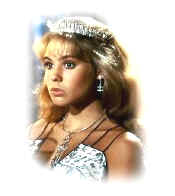 shúile; we had to ask someone for the spelling afterwards!) and we barely caught the unknown but hauntingly familiar looking singer's name, simply "Síobhán." The rest of her unusual name we lost, too captivated by their performance to understand what Brennan was saying at the time. It was truly as if Heaven had opened up upon our small, dirty corner of Doom City and shone down; the young lady a vision in iridescent white, as breathtakingly perfect as Brennan (give your stage crew a big fat raise, you guys!) Numerous members of the audience were so taken as to have made spectacles of themselves, giving the finale a definite rock-opera swan song feel in the air.
Then to the last number, once again accompanied by Brennan on violin, the petite chanteuse gifts us with a lush, ebullient yet strangely wistful rendition of another old Irish tune, "The Parting Glass." She rises, backing up with Sean into a subtle mist gathering white wisps at their feet, as the stage glows now with an almost palpable light, a holy fire bathing everything it touches with the sense of a majestic farewell... she sings, "Fill to me the parting glass, And drink your health, whate'er befalls, Then gently rise and softly call Goodnight and joy be to you all! "... her voice echoing down to a pinpoint, that winks out... as do the lights to pitch black. Who wasn't smiling like a cat with canary breath, was weeping openly in appreciation and awe. Whatever your ethical or spiritual beliefs, you left there feeling as if you'd just touched something sacred... and it touched you back.
The night ended with the strangest feeling... that those assembled there somehow knew this may be their last hurrah, and so they gave everything they had... and after this night, it almost made you feel like you didn't want to go to another show for a long, long time, so that one could keep the memory of this night fresh and alive for as long as possible.
The remainder of the auction items to be put up for bid will be announced in a few days.
-- Compiled by Staff Reporters
---
California Pelican Deaths Puzzle Wildlife Officials

LOS ANGELES (Reuters) - California's endangered brown pelicans are mysteriously starving to death during a bumper year for anchovies, their preferred prey, wildlife officials said.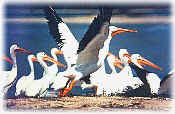 Hundreds of the ungainly sea birds appear to have flown off course in search of food during their annual migration from the Baja California peninsula to British Columbia, with young pelicans turning up in Arizona deserts, biologists said.
Wildlife sanctuaries in California and Arizona have taken in scores of young birds found emaciated and injured over the past month, but veterinarians have been unable to link their plight to disease or pollution.
"They are starving but we do think there are plenty of anchovies," said Judy St. Leger, a veterinarian at San Diego's SeaWorld aquatic animal park. "It is an unusual and very extraordinary event."
The large, grayish-brown sea bird with the pouched bill was threatened with extinction in the 1970s because of the introduction of the pesticide DDT. It is still listed as endangered, according to the California Department of Fish and Game.
Cate said the young birds may be mistaking interstate highways for waterways, which would explain why numbers of them have been found along roadways with broken wings or legs.
SeaWorld has released about 10 of the 60 young pelicans it took in earlier in the month, but the facility is still trying to pin down the source of their distress, SeaWorld's St. Leger said.
"Right now we are trying to help the birds that are coming to us... and trying to give them a second chance," she said.
---
Dangling from Meat Hooks, for Fun

MIAMI (Reuters) - Law enforcement officials in the Florida Keys are mystified by a bizarre new pastime -- young people dangling themselves from meat hooks on a popular sandbar.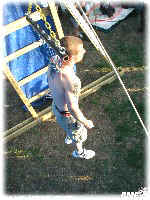 A U.S. Coast Guard spokeswoman said on Sunday that the Monroe County sheriff's office and Coast Guard were called on August 12 to the sandbar off Whale Harbor in Islamorada where locals say wild behavior is becoming a tradition.
They found that five young people had erected a bamboo tripod and hung meat hooks from it. A young woman, her feet brushing the surface of the shallow water, dangled from the frame, hooks embedded firmly in her shoulders.
According to a Coast Guard video, she did not seem to mind the hooks.
A Coast Guard spokeswoman in Miami said the group had clearly done this before and intended to post photos of themselves on a Web site dedicated to "body modification" -- the ritualistic piercing of the body.
"It looked like a daily routine for them," she said, adding that the hooks had been inserted in the skin in a professional manner and had drawn very little blood."
"As long as they weren't creating any kind of ruckus or riot within a crowd they really weren't breaking any laws."
The Coast Guard passed the video on to federal justice authorities but no further action will be taken.
---
---
INTERNATIONAL NEWS
---
Archeologists discover ancient graffiti on China's Great Wall

BEIJING (AFP) - Chinese soldiers sent to the Great Wall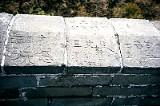 centuries ago did not just spend their time keeping alien invaders out -- they also decorated their watch towers with ancient graffiti, state media said.
Archeologists studying a section of the wall in northeastern Liaoning province were surprised to find carvings of symbols representing love and peace, the Xinhua news agency reported.
The historical record may offer an explanation, as it shows the general in charge of this part of the wall in the late 16th century allowed soldiers to bring their families along in order to boost morale.
Each household was put in charge of one watch tower, and the graffiti could reflect their endeavors to add a homey touch to the otherwise austere surroundings.
---
---
LETTERS TO THE EDITOR
---
Letter to the Editor:
Re: the letter written in your August 1st edition.
It seems that Ms Pricilla Rexrode thinks that the accusation of wrong doing is proof enough to convict.
While Meghan Ambrose's tribulations are a tragedy, Stephen Byrne AKA Loki has not been convicted of anything. Perhaps rather than ironic, his support of women's issues should be seen as self-affirming.
Not all who are accused of a crime are guilty and not all the guilty are accused. If she has some proof positive to the contrary perhaps she should be contacting the court system so they can deal with whatever proofs she might have, rather then making near slanderous remarks to a newspaper.
Dexter McKenzie
Arlington, Va.
---
---
POLICE BEAT
---
MINOR APPROACHED IN SPRINGFIELD AREA: A 14 year old boy in Springfield, VA says he was approached by a white male in his 20's or 30's who offered him money for sexual favors. He was a rather forgettable, well dressed man. He has darkly tanned skin, short brown hair, grey eyes. He's a large boned man topping 6'. He was wearing a grayish-black leather trench coat and a conservative but upscale long sleeved shirt, with navy pants, polished black boots.
The man claimed at first to be a religion reporter for the Washington Post but sources confirm there is no such man (he gave the name Mitch Wilms). He then claimed to be a Private Eye, also unsubstantiated.
Fairfax County police have an APB out on this man, who is wanted for questioning relating to the incident. The boy was unharmed.
---
ADULT ENTERTAINER MISSING - NORTHEAST: Local Adult entertainer Chastity Foxxx was reported missing to DCPD earlier this week by her staff and a frequent co-star and friend who uses the stage name Sylvia Saint.
Foxxx was officially reported as a missing person when she failed to show up for a photo shoot she had scheduled earlier this week. Staff has noted that she had not been in her office in the last couple of days, but that this was not unusual in and of itself. Ms. Saint, a long-time colleague and confidante of Foxxx's, stepped in to temporarily manage her Adult Entertainment Club and Photography and Video businesses while the matter is looked into.
Some sources mention Foxxx's sometimes paramour, political aspirant Noah Foster, who has had a fairly rocky relationship with Ms. Foxxx, according to her staff, who claims to have heard some violent confrontations between them in her office. They assured police that the noises had nothing to do with her work. Foster is under investigation for some questionable reciprocity going on between him and other politicians in some personal matters. He was unavailable for comment.
Foxxx has left no trail of her whereabouts as of yet. Her car, her office, her home and her bank accounts have not been touched since last week. She did not inform anyone that she would be gone for any reason. Police at this time have no proof of or motive for foul play, but all possibilities are being considered. Anyone who has seen this woman (Picture) are urged to call the Tipster Hotline or DCPD 12th Precinct.
---
---
SPORTS NEWS
---

Georgetown Footballer Running Back Robbie Jones of New Zealand is back to practice with the Hoyas just in the nick of time, but showing signs of his summer hiatus due to an injury in a game against Bucknell this past April, which compounded those sustained in a knife assault off-turf last Spring.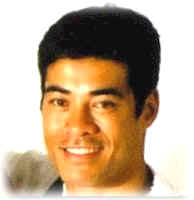 After a harsh post-assault NCAA ranking last Spring from Beckett & Smith Magazine, Jones has spent the summer months in rehab, and slowly working his way back into things by bouncing part-time at Web of Night.
He will have a lot of catching up to do as he enters his Junior year at the prestigious institution. Jones is a Sociology major at Georgetown, when not under the shoulder pads. He plans to go into Social Work in some capacity, much like his mentor, Father Alan Jackson.
---
---
STYLE & SOCIAL NEWS
---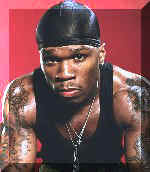 GOSSIP SECTION: In a strange fit with his new reformed thug image, Kareem "Sultan Homicide" Oakley has been seen around town in swank hotels with a striking blond that bears a disturbing resemblance to missing, presumed dead Shock Rocker Anya Star or her half-sister Shavawn. Sources have no information on any new ladies in Oakley's life, and he denies there is anything to speculate about. Should we assume then that their dealings were on a more... ahem... "professional" (read: outcall) level?
Well, now we know why it is poster boi Jaymes Lovier and his china doll Aki Oshii may have never settled down yet into even an item; sources noted that Lovier was quite attentive to Goth-Rock singer Loki down at Web of Night yesterday evening. Maybe he'd gotten some pointers from another of Loki's ex's, Ashley Peterson, when they co-hosted the Hospitality Suite for the recent Charity Concert...
RETRACTION: In our previous edition, our editor was light-heartedly speculating on whether NASCAR Racer Francesca "Torque" Torquemada might become Mrs. Senator Baird; however to alleviate any confusion, Mr. Baird is currently running for a position in the House of Representatives, as DC does not have a Senator. We apologize for any confusion caused by the comment.
---
"(President GEORGE W.) BUSH is making America look and feel very horrible around the world. He doesn't represent the heart of America. He represents another part of the anatomy but not the heart." -- rock guitarist CARLOS SANTANA, in Billboard.
---
---
ENTERTAINMENT (CON'T)
---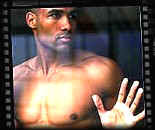 LOCAL RAPPERS CHANGING IMAGE - SOUTHEAST:

Washington, DC based Rap group "Sultan Homicide and the 1200 Murdered Brothers with Ali and Rickety B" have been riding on their glowing reviews from the Web/Phantasm Charity Concert last month, and along with it adopting a new image.

The 1200 have been seen chatting up some of the charities sponsored by the concert, as well as some other schools and civic groups in the area.

They have also done a couple of anti-drug and anti-gang PSA's for local cable television and radio stations.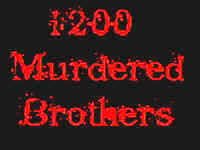 The group already donated over $3000 at the Charity Concert as it is, and is putting even more money into the betterment of local teens in crisis. Frontman Kareem Oakley simply says that he's realized some things about his life recently and made a choice to leave something positive behind.
---

STREET POET FEATURED IN NEXT MONTH'S "BELTWAY" - NORTHWEST: Blue collar poet Scotty Goldman has been accepted as lead poet in the quarterly compilation "Beltway: A Poetry Quarterly"
Goldman will contribute up to ten poems for the newest anthology, due out in stores at the end of September.
---