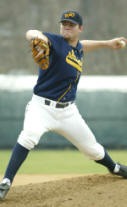 GWU Gives Baseball Scholarship to Local Athlete
NORTHWEST -- DC resident Clyde Wilkins, son of John and Amanda Wilkins of Northwest DC, was awarded a full-ride baseball scholarship to George Washington University. The Colonials are proud to welcome their newest rising star to the team. More information can be found at the GW Athletics web site at:
http://gwsports.cstv.com/sports/m-basebl/gewa-m-basebl-body.html
---
---
POLICE NEWS
---
New Street Drug Turns Users Into "Zombies"
by Hailey Mills, Investigative Reporter
DC Police have released a report warning local authorities and residents about the latest designer drug to hit the East Coast this year.

Methamphetamine-based, and extremely potent, the drug has been nicknamed 'Little Death' by a local who did not wish to be named.
Unrelated to both the French and Shakespearean euphemisms for sexual climax, this drug kills faster than anything previously on the black market, and leaves a lasting side effect on those who die from taking the drug.
A few days ago, the Midtown Precinct was attacked by a lone gunman who was under the influence of Little Death, causing his body to continue to function hours after he was dead. Medical officials are stumped on this new drug's side effects. A Forensic Toxicologist at Washington's Sibley Memorial Hospital said, "This stuff is like something right out of a George Romero movie, frankly."
DCPD consulted a local occultist, Dina Newberger, in regards to the strange symbols on the drug's packaging. According to police sources, Newberger, claims that the symbol is based off Satanic images, and was quoted as saying that "only Satan would desire a league of zombies to do his bidding."
As of yet, DEA officials have not released an official rendering of the images on the drug's packaging. The graphic in this article is an estimation.
Whoever is behind this new drug, Local law enforcement are keeping closed lipped on the details, ostensibly in order to more effectively zero in on the source without tipping their hand..
---
Local Teen Gets 11 Months for Drag Racing
A Fairfax County teenager, whose drag racing in Springfield led to the death of his best friend last year, has been sentenced to 11 months in prison for involuntary manslaughter.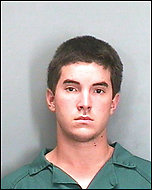 John M. Wilcox, then 17, was driving a 1989 Ford Mustang down Old Keene Mill Road on the afternoon of March 22, 2005. His friend Adam M. Foote, 17, was in the passenger seat.
Court records show that they were racing against a 1996 Chevrolet Camaro driven by another 17-year-old. All three were students at West Springfield High School.
Witnesses told police that both cars were heading at high speeds down Old Keene Mill when, as they neared Huntsman Boulevard, a six-ton Ford dump truck going the opposite direction turned left in front of them. The Camaro swerved and crashed into a light pole. The driver was not seriously hurt.
Wilcox's Mustang slammed into the back of the dump truck and spun around 180 degrees, police said. Foote was taken to Inova Fairfax Hospital, where he died nine hours later. Wilcox was not seriously hurt.
Fairfax police said that during their investigation, Wilcox twice sold marijuana to an undercover officer and admitted to the officer that he had been racing the Mustang. Wilcox was charged in May 2005 with involuntary manslaughter and two counts of selling marijuana.
---
Local Man Kills Family, Self in Jealous Rage
NORTHEAST DC -- John Shaw was well liked by his co-workers and friends. He worked full time as a construction worker whose employers say was always on time and friendly, so it came as a shock on Friday when he did not show up for work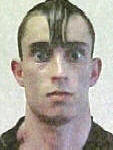 . His boss, Kandi Ritter, called his home around noon to find out why and was intercepted by a D.C. Police Officer on the end of the line.
Ritter was asked to come down to the station for questioning. "I was shocked when I got there and they told me John was dead, and so were his wife and two children. But I was even more shocked to find out it was John who'd held the gun," Ms. Ritter told The Washington Star-News Friday.
At around 8 p.m., officers say that, according to the caller in question, Mr. Shaw intercepted a phone call on his wife's cell phone, causing him to go into a jealous rage. The man on the other line was calling to speak to Mr. Shaw's wife and he believed that Shaw believed the caller was having an affair with his wife. The caller has been identified as 27 year old Aaron Hall of Silver Spring, MD. Hall denies the allegation of adultery.
According to cell phone records, Shaw attempted to call Hall back but dialed another number that was one digit off from Hall's, though he spent more than 10 minutes on the call. After this, Shaw apparently went into his bedroom and loaded a shotgun, then proceeded to shoot his wife and 2 children, ages 3 and 6, before turning the gun on himself. Neighbors called the police when they heard the yelling and shots, but they got there too late.
Funeral arrangements have been made and a memorial for the Shaw Family will be at St John's Episcopal Church in Northeast, where the Shaw's worshipped. Rev. John Gillespie said that the couple were "working through their marital problems" at the time of the murder.
---
Death of Two Local Teens still Unexplained

LEESBURG, VA -- When Officers Jackson and Bernard showed up on the scene they didn't find anything unusual in the upper middle class home. No signs of foul play, no drugs and nothing out of the ordinary in the room of Rygel Creighton, a High School senior from Lovettsville High School in Loudoun County, VA, who'd moved to D.C. with his parents over the summer. Creighton was scheduled to start GWU in the Fall.
What they did find was the young boy face down in this bedroom dead of unexplained causes. Toxin screens by the D.C. Crime lab showed that the boy, who was a hockey player and A-student, had nothing in his system that would have

caused a sudden death like this. They were stumped.
While investigating the case, the officers received another shocking call. Another teen was found in a local park. Officers Jackson and Bernard once again responded. "It was like Deja-Vu" Officer Jackson said, "here was this otherwise healthy girl sitting dead on a park bench just like that boy we'd found only a day or two before."
This time it was the body of Sandi Duncan, a Senior at Lovettsville High School. Sandi was working in D.C. during the summer. There were no signs of foul play and like Creighton nothing was found by the Crime Lab to point to cause of death. The F.B.I. has opened this as an official case but as of yet have not made a public statement.
---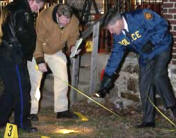 Drunk John Doe Attacks Cops at Local Precinct
MIDTOWN DC -- Things were quite Sunday August 6th at the DCPD Midtown precinct when Officer George Frenley brought in what he described as a "Drunk and Disorderly John Doe". Things quickly escalated into a brawl when John Doe managed to get loose from Officer Frenley and wrestle the gun from him. Shouting threats and brandishing the gun John Doe took

D.C. Head Coroner, Dr. Jordan Forester, hostage, after reports say she hit him with a phonebook to subdue him from a possible attack on fellow officer Antoine Laike and Sergeant Linden when Laike's attempts to control the man verbally failed.
Frenley leapt to action to protect his fellow officer and sprayed John Doe with mace. Officers subdued John Doe after Forrester was released and Doe died during the altercation. Coroners office is looking into the cause of death and Internal Affairs is investigating.
---
Wounded Officer Recovering

D.C. Coroner, Dr. Jordan Forrester, was wounded in the attack at the Midtown Precinct when she was hit with pepper spray in the mouth and face.
She was sent to Georgetown University Medical Center and released the next day with burns to the inside of her mouth but in otherwise stable condition.
The Washington Star News sends hopes for a speedy recovery to Dr. Forrester.
---
Cops Go Back to Class
FAIRFAX, Va. -- School in Fairfax County is several weekends away from starting up again, but Friday morning, police officers who will be helping out in schools this year underwent training.
The training includes building a case off a marijuana bust, what to look for when someone appears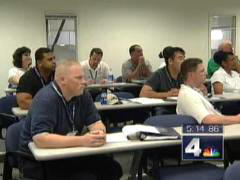 drunk but there's no smell of alcohol on the breath, and what the current trends are among students and on the street. Officers have been learning everything from being a mentor to a student to detecting when he or she is high or selling drugs on campus. Most of the officers in training have five to 10 years of experience on the force.
The school resource officers often end up spending more time with students than parents do. "One of the messages that I would send to a parent is to don't let go so much," said SRO Isla Blaney. "Keep a close eye on them. Even though they are getting older, I think it's very important to still pay very close attention to what's going on."
"There are some parents out there who are lacking right now maybe the resources or just the know-how of how to get a kid involved in maybe extracurricular activities, whether it's church or sports teams or clubs or something like that," said SRO Mark Gleason. "There's a lot of things that are offered, but there's probably a lot of kids or families out there that aren't taking advantage of the opportunities."
---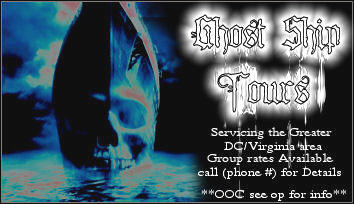 Firefighter Emerges from a Lost Decade
-- Compiled from Newswires
Nearly 9 1/2 years after a firefighter was left brain-damaged and mostly mute during a 1995 roof collapse, he did something that shocked his family and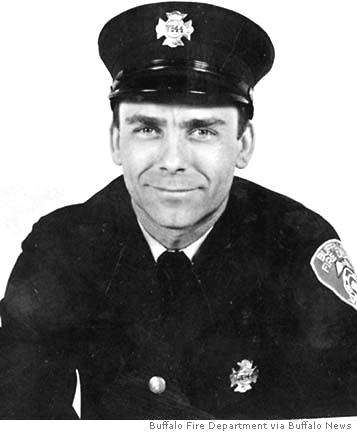 doctors: He asked for his wife.
Staff members of the nursing home where Donald Herbert has lived for more than seven years raced to get Linda Herbert on the telephone.
It was the first of many conversations the patient had with his wife, four sons and other family and friends Saturday during a 14-hour stretch, Herbert's uncle Simon Manka said.
"How long have I been away?" Herbert asked.
"We told him almost 10 years," the uncle said. "He thought it was only three months."
Herbert, who will turn 44 Saturday, was fighting a house fire Dec. 29, 1995, when the roof collapsed, burying him under debris. After going without air for several minutes, Herbert was comatose for 2 1/2 months and has undergone therapy ever since.
Manka declined Monday to discuss his nephew's current condition, or whether the apparent progress was continuing this week. The family was seeking privacy while doctors evaluated Herbert, he said.
"He's resting comfortably," the uncle said.
"The extent and duration of his recovery is not known at this time," Manka said. "However we can tell you he did recognize several family members and friends and did call them by name."
---
Virgin Mary Seen On Overpass
by George Armitage, Chicago Tribune
CHICAGO, IL -- A steady stream of the faithful and the curious, many carrying flowers and candles, have flocked to a Chicago-area expressway underpass for a view of a yellow and white stain on a concrete wall that some believe is an image of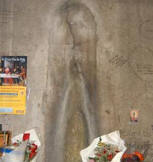 the Virgin Mary.
Police have patrolled the emergency turnoff area under the Kennedy Expressway since Monday as hundreds of people have walked down to see the image and the growing memorial of flowers and candles that surround it.
Beside the image is an artist's rendering of the Virgin Mary embracing Pope John Paul II in a pose some see echoed in the stain.
"We believe it's a miracle," said Elbia Tello, 42. "We have faith, and we can see her face."
Tuesday morning, a women knelt with rosary beads behind a police barricade while men in work shirts stood solemnly before the image, praying.
A police officer kept the crowd of about three dozen from getting too close to the traffic but didn't stop them gathering around the stain.

---
INTERNATIONAL NEWS
---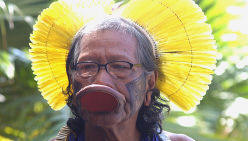 A Big Day in Brasilia
-- from International News Wires
Cacique Raony, indigenous chief of the Kayapo tribe of the state of Mato Grosso, left, speaks during an encounter with journalists in Brasilia, Brazil, on Sunday. Approximately a hundred indigenous bosses of several states of the country are in Brasilia for a meeting with president Luiz Inacio Lula da Silva on Tuesday.
---
Informer Files Stir Uproar in Romania
BUCHAREST, ROMANIA -- Nearly 17 years after Romania's communist regime collapsed, the first of an estimated 1.3 million files amassed by its secret police are finally about to become public, and already the nation is convulsed by revelations of how citizens were forced into betraying friends and colleagues.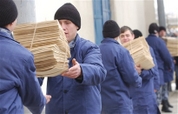 While other former communist-bloc countries have moved at varying speeds to confront their Cold War past, Romania has kept most of its dirty laundry firmly locked up.
Despite the ouster and execution of dictator Nicolae Ceausescu in 1989, the country continued to be governed by ex-communists until the 2004 election of a centrist government more open to reform. Now, as Romania prepares its bid to join the European Union next year, the pressure for more transparency in government is mounting, and a national commission is trying to sort through some eight miles of files in the archive of the Securitate, Ceausescu's hated secret police.
---
ENTERTAINMENT NEWS:
GOSSIP COLUMN
---
Passions of the Drunk
MALIBU, CA -- Gibson, 50, was sentenced to three years probation, fined $1,600 and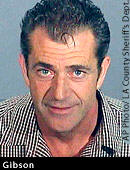 ordered to attend Alcoholics Anonymous meetings and enroll in what was described as a three-month-long "alcohol-abuse program."
The actor-director, arrested July 28 while allegedly in the company of an open bottle of tequila, was not present in the Malibu courtroom. After the text of his reputed tirade was first reported, Gibson admitted to acting "out of control," copped to an alcoholic relapse and apologized to "everyone in the Jewish community."
Gibson did not face any criminal charges for reputedly proclaiming "he owns Malibu," and addressing a female sheriff's deputy as "sugar tits." Gibson's account squared, for now, with law enforcement, his case is still under review in Hollywood. The "f--king Jews" quote drew scorn from Deuce Bigalow star Rob Schneider and agent Ari Emanuel, and prompted ABC to cut ties with Gibson on a proposed Holocaust mini-series.
The rabbi of a Beverly Hills synagogue that serves the entertainment industry has invited Mel Gibson to address the congregation on Yom Kippur, the Jewish Day of Atonement.
In response, Rabbi David Baron Tuesday invited Gibson to address the congregation on Yom Kippur, according to the TMZ Web site, which reports on celebrities and broke the story of Gibson's anti-Jewish tirade.
"It is one thing to issue a statement but coming directly into the presence of a community is more effective," read Baron's letter, which was obtained by TMZ. "To that end I wish to invite you to come and speak in order that you might directly express to the Jewish community your remorse."
It added: "In our faith we are commanded to forgive when the offending party takes the necessary steps and offers an apology from the heart."
Baron, who describes Temple of the Arts as "the largest entertainment industry synagogue in the United States," told TMZ that some members of his congregation were skeptical about Gibson's latest apology, feeling he is "an absolute anti-Semite."
"My response was, `Better a repentant anti-Semite than an unrepentant anti-Semite,'" Baron wrote.
---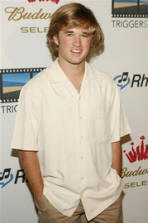 I See Drunk People
GLENDALE, CA -- Teen actor Haley Joel Osment, who suffered a broken rib last month when his car struck a mailbox, faces up to six months in jail on charges that he was driving drunk and possessing marijuana, authorities said. Osment's is best known for his performance as the kid who saw ghosts in Sixth Sense.
Osment's blood-alcohol level after the July 20 crash was measured at .16 percent, twice the legal limit, said Jane Robison, a spokeswoman for the Los Angeles County district attorney's office.
The 18-year-old actor was charged Thursday with misdemeanor counts of driving under the influence, marijuana possession and driving under the influence with the special allegation of having a blood-alcohol content of .15 percent or higher. He also faces a vehicle code infraction of being under the age of 21 and driving with a blood-alcohol level of .05 percent or greater.
---
CLASSIFIED ADS
---