DEN REOPENS YET AGAIN - THIRD TIME'S THE CHARM? -- NORTHEAST: Just scarcely a month after the second major inexplicable structural collapse not even a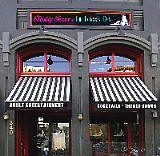 year after opening, The Foxxx's Den adult entertainment and dance club, in the same U Street corridor as Bound and the Black Cat, managed to swiftly effect repairs to code and secure permits to reopen for a third attempt at staying in business.
The DC Zoning Board, taken by surprise at the pace at which the Den got back on its feet, completed inspections Monday and will allow it to reopen to the public this weekend. Interviews with neighboring businesses and numerous investigations and inspections were inconclusive, as to the source of the mysterious collapses the building has twice now experienced.
New owner and star performer Andrea Cardelle had no comment to the press on the strange events surrounding the club, nor how she acquired the club from namesake founder Chastity Foxxx (aka Selena Fox).