Sign of the Times at Gallery Place
Even More Electronic Billboards Planned for Chinatown Area

By TONYA LAFLEUR

NORTHEAST -- Grabbing your eye is their goal. Every year they get more dazzling than before. They are high-tech billboards and soon even more could be at every angle you walk, drive and simply gaze at Gallery Place in northwest Washington.
Over the next few months, Orange Barrel Media plans to add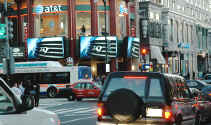 eight full-motion LED screens to the already abundant marketing bonanza tucked between Chinatown and the Verizon Center.
According to a report in the Washington Business Journal, Orange Barrel Media wants six of the new high-tech billboards to be street kiosks. Two other billboards would be 45-feet-tall signs attached to a condominium complex.
While it might be good for some company's bottom line, the impact on the neighborhood may not sparkle as bright for some.
StopTheBillboard.org is a website started by a condo resident in the area. It bashes the plan for more signs at Gallery Place and even includes a petition for D.C. officials.
Those opposed could face an uphill battle. The company behind the billboards has the support of two important neighborhood groups thanks to some financial compensation according to the WBJ article. The Gallery Place Residents Association and the Chinatown Community Cultural Center have approved the plan for the signs.
Making the new flashy signs a reality at Gallery Place is now up to those in the D.C. Office of Planning.
---
The 11th Hour Lounge Renovations Continue - Grand Opening Slated for April
MIDTOWN -- The 11th Hour Lounge, located at McPherson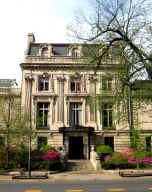 Square, continues to undergo renovations in anticipation of their Grand Opening in April. The new owners, Chez Nous LLC, have been hard at work with meticulous renovations that still respect the historical architecture of the original building, which had formerly been an embassy, a library and a private residence.
The 11th Hour Lounge will cater to an upscale clientele, with a main dining room, a VIP room, several reservable group party rooms, a lounge with a library and a "home theater" room.
The renovation process is being filmed by Planet Green which is doing a documentary on the usage of environmentally friendly products in historical restorations. The building is also being converted to handicapped access way beyond the minimum that the ADA requires.
Chez Nous LLC has also hired all-local contractors and craftsmen to do the renovation, and will soon be hired kitchen and wait staff, as well as other guest assistants and a concierge.
The Invitation-Only Grand Opening is slated for early April.
---
Robots Play Soccer in High School Competition

By KATHY BANKS

Robot soccer players? Anything's possible with a little imagination.
That's the idea behind a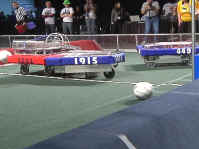 robotics competition at the Washington Convention Center in D.C. It's an annual event that challenges high school students from across the country to design and build a functioning robot.
The challenges are different each year. This year, students had to come up with a high-tech soccer game called "BREAKAWAY." One team came up with a 110-pound aluminum contraption that moves forward, backward and side-to-side. It even has a moving "kicker."
Almost 60 high school teams, representing 11 states and the District of Columbia, are participating in the event.
The competition runs through Saturday and is open to the public.
---
Senators question $1 million pay for charity's CEO

By STEPHEN OHLEMACHER, Associated Press Writer

WASHINGTON – A group of Republican senators is questioning high salaries and expensive travel bills for executives at the Boys & Girls Clubs of America, raising issues that could jeopardize millions in federal funding for the national charity.
The four senators said they were concerned that the chief executive of a charity that has been closing local clubs for lack of funding was compensated nearly $1 million in 2008. They also questioned why in the same year officials spent $4.3 million on travel, $1.6 million on conferences, conventions and meetings, and $544,000 in lobbying fees. "The question is whether or not a very top-heavy organization might be siphoning off federal dollars that should be going to help kids," said Sen. Chuck Grassley of Iowa, the top Republican on the Senate Finance Committee.
The senators sent a letter to the head of the charity's board of governors Thursday seeking detailed financial information about executive compensation, travel and lobbying expenses, and how the national charity awards grants to local clubs. The issues they raise could threaten the reputation of a popular charity that supports 4,300 local Boys & Girls Clubs serving about 4.8 million children. The timing threatens a bill moving through the Senate that would provide up to $425 million in federal money to the national organization over the next five years. "That bill isn't going anywhere until we get the answers to these questions," said Sen. Tom Coburn, R-Okla.
Along with Grassley and Coburn, the letter was signed by Republican Sens. Jon Kyl of Arizona and John Cornyn of Texas.
Community Boys & Girls Clubs are all locally governed, but most receive tens of thousands of dollars each year from the Atlanta-based national charity. In 2008, the national charity reported receiving $41 million in government grants and $51 million in other gifts and contributions.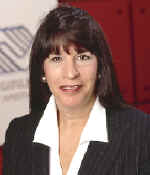 Roxanne Spillett, president and CEO of the Boys & Girls Clubs of America, received a total compensation of $988,591 in 2008, according to the charity's tax filings. She got a base salary of $360,774, a bonus of $150,000 and other compensation of $83,152, for a total of $593,926. She also received $385,500 in deferred compensation, most of which went to a retirement plan, and $9,165 in nontaxable benefits.
Evan McElroy, senior vice president of communications for the Boys & Girls Clubs of America, said the charity would respond to the letter before the March 29 deadline set by the senators. He declined to answer questions about the charity's finances when contacted Thursday but said in an e-mail that Spillett's base salary has not increased since 2006. In the e-mail, McElroy said the charity's compensation committee follows Internal Revenue Service guidelines for nonprofit organizations. He said Mercer, a human resources consulting firm, analyzed executive compensation and found it was "appropriate for a large, national, tax-exempt, youth organization."
Despite recent closings, Spillett has overseen significant growth in the number of local Boys & Girls Clubs since becoming president of the national organization in 1996. During that time, the number of local clubs grew from 1,850 to 4,360.
Experts were split on whether Spillett's pay was excessive for a charity with revenues of $107 million in 2008, the latest year available. "It's certainly not unusual to see people leading major charities, which after all, are very large, complex operations, making substantial salaries," said Brian Vogel, a senior principal with Quatt Associates, a management consulting firm in Washington. Vogel said "$500,000 or $600,000 wouldn't be outside the marketplace. ... Remember, these are organizations that can be as hard to manage as a major for-profit business."
Annual compensation averaged $462,000 last year for the CEOs of charities with expenses of more than $100 million, according to a compensation study by Charity Navigator, a Web site that evaluates charities. "The people who use our site, donors, would be appalled by a salary like this," Ken Berger, president and CEO of Charity Navigator, said of Spillett's compensation. "If you want to be a millionaire, go and work in the for-profit sector."
Coburn first raised issues about the charity's expenses in January, when the Senate Judiciary Committee passed the authorization bill, which is still awaiting action by the full Senate. "I'm a big supporter of boys and girls clubs. I think they do a lot of good things," Coburn said. "But I think if we're going to give them a whole lot more money, which is what the bill plans to do, then we have a fiduciary responsibility to make sure that the money we are giving them now is spent properly."
---
---
POLICE NEWS
---
---
---
CLASSIFIED ADS
---
Wanted: Personal Defense Trainer

I'm looking to learn some self-defense skills. I work days and go to school at night so only have odd availability. Looking for a form of empty hand and/or bladed. Bonus if you can teach firearms as well and have an area to practice.
Please leave contact information at the following number : blah blah blah. (OOC see the STs to respond to this ad)
---
Wanted: Computer Investigator

Looking for someone who knows their way around computers & can acquire hard to find information.
Please leave contact information at the following number: blah blah blah (OOC see the STs to respond to this ad)
---
MAISON DE DOULEUR IS CURRENTLY HIRING A RECEPTIONIST (MIDNIGHT - 8 AM), AND ENTERTAINERS WHO SPECIALIZE IN BONDAGE THEMES.
CONTACT LORELEI DEL`ARMIGO AT (540) 555-1007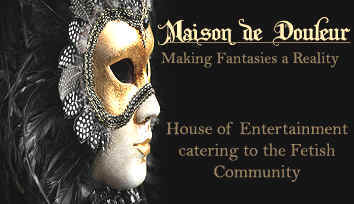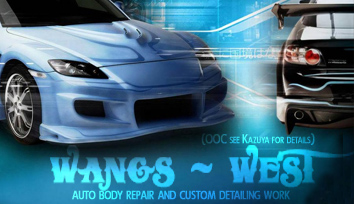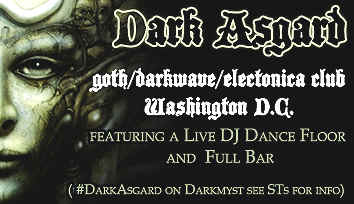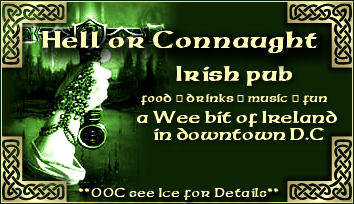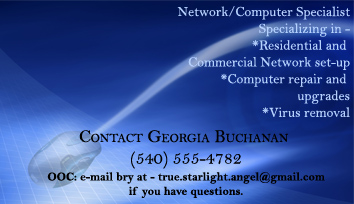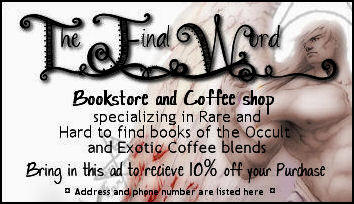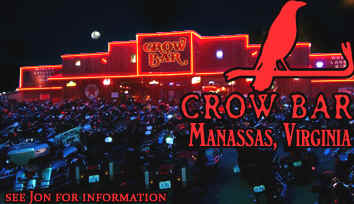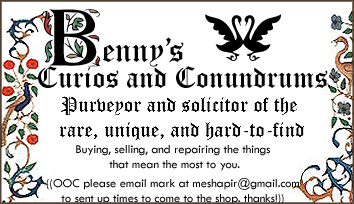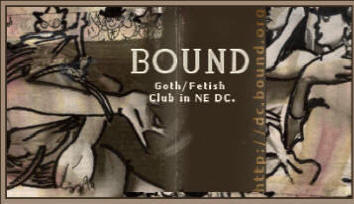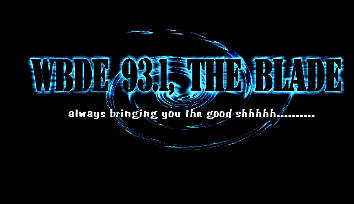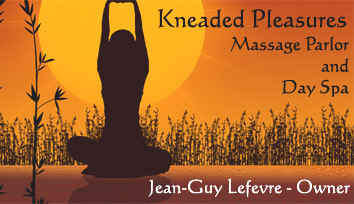 Jellyfish Have Human-Like Eyes
A set of special eyes, similar to our own, keeps venomous box jellyfish from bumping into obstacles as they swim across the ocean floor, a new study finds.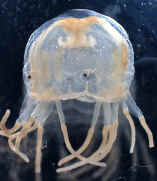 Unlike normal jellyfish, which drift in the ocean current, box jellyfish are active swimmers that can rapidly make 180-degree turns and deftly dart between objects. Scientists suspect that box jellyfish are such agile because one set of their 24 eyes detects objects that get in their way.
"Behavior-wise, they're very different from normal jellyfish," said study leader Anders Garm of Lund University in Sweden.
The eyes of box jellyfish are located on cup-like structures that hang from their cube-shaped bodies.
Whereas we have one set of multi-purpose eyes that sense color, size, shape and light intensity, box jellyfish have four different types of special-purpose eyes. The most primitive set detects only light levels, but one set of eyes is more sophisticated and can detect the color and size of objects.
One of these eyes is located on the top of the cup-like structure, the other on the bottom, which provides the jellyfish with "an extreme fish-eye view, so it's watching almost the entire underwater world," said Garm, who will present his research at the Society of Experimental Biology's annual meeting, in Scotland.
To test if these eyes helped the jellyfish avoid obstacles, Garm put the jellyfish in a flow chamber and inserted different objects to see if the jellyfish could avoid them. While the jellyfish could avoid objects of different colors and shapes, transparent objects proved more difficult.
"They can't respond to the see-through ones," Garm said.
Because jellyfish belong to one of the first groups of animals to evolve eyes (the phylum Cnidaria), Garm said, understanding how their eyes operate will show scientists what eyes were like early in evolutionary time.
---
---
INTERNATIONAL NEWS
---
Finding Said to Boost Proof of Goliath

Reference from 950 B.C. lends credence to Bible tale, archaeologists say

JERUSALEM - Archaeologists digging at the purported biblical home of Goliath have unearthed a shard of pottery bearing an inscription of the Philistine's name, a find they claimed lends historical credence to the Bible's tale of David's battle with the giant.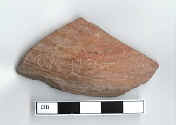 While the discovery is not definitive evidence of Goliath's existence, it does support the Bible's depiction of life at the time the battle was supposed to have occurred, said Dr. Aren Maeir, a professor at Bar-Ilan University and director of the excavation. "What this means is that at the time there were people there named Goliath," he said. "It shows us that David and Goliath's story reflects the cultural reality of the time." In the story, David slew Goliath with a slingshot.
Some scholars assert the story of David slaying the giant Goliath is a myth written down hundreds of years later. Maeir said finding the scraps lends historical credence to the biblical story.
The shard dates back to around 950 B.C., within 70 years of when biblical chronology asserts David squared off against Goliath, making it the oldest Philistine inscription ever found, the archaeologists said.
Scientists made the discovery at Tel es-Safi, a dig site in southern Israel thought to be to be the location of the Philistine city of Gath.
---
Former husband guilty of attempted murder with latex glove


Charles Henson.
Photograph: Gloucestershire police/PA

The Guardian, London -- An American man was found guilty of attempting to murder his latex-allergic British wife by forcing a surgical glove into her mouth.
Charles Henson, 39, tried to trigger a fatal allergic reaction in Allison Phelps at the home she shared with her new partner, Michel Phelps, whose surname she has adopted.


Bristol crown court heard that Henson told his estranged wife: "You will be dead in four minutes."
The former serviceman, from Wisconsin, was also convicted of attempting to gas his wife, Mr Phelps and the couple's children from earlier relationships at their home in the Forest of Dean, Gloucestershire, on March 4.
Ms Phelps had met Henson, a jewellery maker, via a fetish website and after a nine-month courtship they married in July last year. But the marriage failed and Ms Phelps accused Henson of violence towards her from the wedding night on. He was into sadomasochism and wanted to treat her as his slave, she claimed.
Police investigated Ms Phelps' allegations of violence but the case against Henson was dropped and he was deported in February this year. Ms Phelps and her two teenage children then set up home with Mr Phelps.
The trial heard that early on March 4, Ms Phelps was woken by the sound of one of her dogs barking. Mr Phelps went downstairs and smelled gas.
He shouted to Ms Phelps to take the children out of the house and not to turn any lights on. After 15 minutes they went back into the dark house.
The children sat on the sofa in the living room and noticed the bespectacled Henson lying in front of it. Ms Phelps, who gave evidence from behind a screen blocking Henson's view of her, said: "He put his hand into my mouth quite suddenly and quite violently. It was a gloved hand."
She told the court she suffered from a "severe allergic reaction" to latex. She always kept adrenaline to hand, with which she had to inject herself if exposed to latex. She said she suffered ulcers in her mouth and sore lips after the attack.
Henson said that was impossible because, according to the couple's "contract" setting out their sadomasochism, bondage and domination rules, "section four" states very clearly that "the master does not have a right to kill the slave."
Today, Henson was also convicted of wounding Mr Phelps in a struggle after he was found inside the house at Coalway, near Coleford. He was cleared of wounding Mr Phelps with intent to do grievous bodily harm.
When he was arrested Henson still had a white surgical glove on his left hand and police found eight other gloves in the camouflage jacket he was wearing, the court heard.

---
---
ENTERTAINMENT NEWS:
GOSSIP COLUMN
---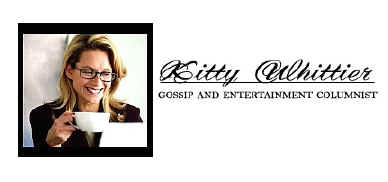 March marches to the beat of her own drum,
Angry in the way of eager youth,
Rebelling against what she will become,
Challenging the too-long-frozen truth.
How beautiful, this month of rage and ruth!


-- Nicholas Gordon
Speaking of the Ides of March and how they bite great leaders in the back... er, side... Seems like the Headliner this edition is a dark turn down Barista Barbie Redux Boulevard. Rumor has it that the woman appearing to be molested (despite repeated denials from the Loki camp) in the infamous Loki YouTube video is none other than ex-pat New Yorker ballerina Odette Calloway, though why she'd be masquerading as a purveyor of fine fraps at The Final Word, 500 miles away, while her chef hubby remains recently MIA in the Big Apple, is beyond me.
Moreover, what is the real connection between her and Loki? Earlier, Loki claimed that they were just good friends joking around when the damning phone-video was shot, and yet supposedly Calloway had only been in DC a few days before her husband's disappearance. Something doesn't add up here.
Meanwhile other rumor has it that Loki is supposedly house-shopping in Chevy Chase, and working hard to clean up his shock rocker image to improve his chances in the ongoing custody hearing with Natalie Wallace. Definitely a change of pace, but certainly a fitting one for a would-be doting father. It would be a shame if this new development becomes a setback in the tug of war.
One parting shot - seems Loki may have backed the right horse in supporting Stand Up For Kids of Washington with his computer donations. God only knows what would have become of the equipment had that gone to the Boys & Girls' Clubs of America.
Not usually a target of mine due to her reclusive nature, Dr. Jordan Forrester, ME, actually ventured out of her crypt long enough to be seen escorting a young man, not her assistant an nearly half her age, from the tombs of Dark Asgard. It probably is time she moved on from grieving over the loss of fiancé Ethan Redfeather, but this smacks of cougar comfort.

---
ENTERTAINMENT NEWS
---
Cinnabun Still Needs Helping Hand
by TMZ Staff

Jesse James' once lost pooch Cinnabun has pretty much recovered from her three week disappearance -- but she still needs an extra lift to jump up on those West Coast Choppers work benches. Jesse tells us that in addition to dropping over 23 pounds while she was gone, Cinnabun also has a pretty bad respiratory infection. Jesse says Cinnabun should be OK after spending a few days at the vet.

---
Howard Stern to Put a Ring on Tiger Mistress
by TMZ Staff

Tiger Woods' alleged mistresses are finally getting a shot at that elusive diamond ring -- but this piece of jewelry doesn't exactly represent commitment ... it represents victory in Howard Stern's Mistress Beauty Pageant. The official "Mistress Ring" is custom designed by Steven Singer Jewelers and features a 3-carat round black diamond in the center with another half carat in diamonds around it. The ring -- the value of which remains undisclosed -- will be presented to the "Best Mistress" on March 10th along with 100,000 in cash prizes. Good luck, "ladies."

---

Madonna and Lourdes To Debut "Material Girl" Clothing Line

Madonna and her daughter Lourdes are launching a juniors clothing line, called Material Girl. An homage to mommy's 1985 megahit song. The Material Girl clothes collection will launch exclusively at Macy's in August — just in time for back to school shopping! The price points for the clothes will range between $12 to $40 and there will also be shoes, jewelry and handbags. "Lourdes has an incredible sense of style and her point of view on fashion has definitely been an inspiration for the line," said Jeff Gennette, chief merchandising officer at Macy's Inc. I have a sneaky suspicion Material Girl will end up looking alot like Abbey Dawn.
---
---
ADVICE COLUMN & BLOG
---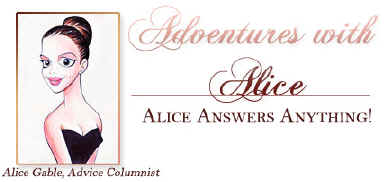 Hello, DC! Well, if y'all remember, my debut was full of mischief toward the steamier side of our capitol, and of course, I aim to please. Our reader PAININTHEBACKSIDE (maybe my only reader, other than my Momma, but we'll just nevermind that), is looking for her boyfriend to take charge in the bedroom, and she's not talking about choosing the Tempur-Pedic mattress. So, DC, I'd like to present you with this, my humble offering to make your relations a little more risqué:

Be Bold! Ladies (& men), speak up. People just love to hear what their partner wants—you know the way we all love to be surprised with a great gift for our birthday but have to have enough sense to drop a few clues? Do that in the bedroom, too. Everyone's happier knowing, and you won't be stuck with a metaphorical set of wine glasses in the bedroom.
Be Brave! I can hear y'all now, "Well, that's all well and good, Alice, but nice girls just don't talk about things like that in the sack", you're thinking. So what? Who wants a nice girl in the bedroom, anyway? Drink a glass (or three) of wine, turn out all the lights, and whisper it right during that point where he'd agree to co-host the Tupperware party and go to that matinee of Wicked with you. Or, be flippant and blame me. Hells bells, why not? Say, "Sugar, that crazy Alice wrote this article about trying new things in the bedroom, wanna?" What's the worst that can happen? The days of spanking called sexual deviance are history, and with celebrities like Katy Perry kissing girls and liking it, why not?
Be on the Ball! So you've been bold, you've been brave—now be careful. You'll wanna make good and sure that you have something called a safe word. Basically, it's a grown-up time out, and it means that both of y'all agree to stop all the ruckus briefly to figure out what's going on. That way, if you're tied up with silk scarves and blindfolded with those silly fur lined things and pretending that You Jane! and Me Tarzan! and you really need the ladies room, you can get out safely. Seriously, folks. I interviewed quite a few people, and while I heard great things, I also heard a horror story or two. Pick some word you both will remember, but isn't commonly in your bedroom vocabulary.

Finally, remember that communication and give and take are everything. Same as the advice I would give about differences of religion or style faux pas in a relationship. Support, experiment – and if you're feeling particularly daring, give Maison de Douleur a call. I toured the establishment in my research, and lemme tell you, there is something for everyone. Ms. Del`Armigo promises to individualize experiences and there are quite a few props and sets. So call her, and star in your very own vixen vignette!


Now, onto the part of the column where my Memaw will stop blushing:


Dear Alice,
I am a person who believes very strongly in good, old fashioned manners. I am punctual and I never forget an RSVP or a Thank You Note or a hostess gift. I am constantly appalled at the state of things amongst my friends recently. It seems as if nobody knows how to follow up on invitations or gifts. Common courtesies aren't any more. Must I give up what I consider to be standard demonstrations of respect and politeness simply because others cannot be bothered to honor them? -- Napkin in my lap in Midtown

DEAR NAPKIN: Please, my etiquette cohort, hold the finely monogrammed flag high. People will learn by example, and, of course, we extend social courtesies not for reciprocation, but because they ease the harshness of a world that is becoming increasingly more abrasive. Take heart, and know that regardless of disdain and callousness, you are representing yourself as a well-heeled, courteous person. Your momma would be proud.


Dear Alice,
A good friend is in a serious dilemma and I am not sure what the best advice to give him is. Recently he found out he is a father, but truthfully he doesn't live the kind of lifestyle that seems good in which to raise a child. He swears he will do what he has to do, but what if he is wrong? Should someone gamble on a child's life like this? The child's mother did not want custody for personal reasons (she is not able to handle the child on her own). The guy's father also seems to want custody. The courts are going to ask friends and family their opinions of who should have it, if anyone. I have no doubt he means well, but honestly I am not sure he should be raising a child. Be involved in the child's life, sure, but primary caretaker I think would be disastrous. What should I do when the courts come asking? If we say he shouldn't have custody, we would break a friend's heart. If we don't, what if the child pays the price? -- Torn in Northwest

DEAR TORN: My goodness, what a pickle. These questions must be considered: Are we more than the sum of our actions? What is the price for a second chance? Is there a statute of limitations on a series of mistakes? These are all things that I don't have answers for. This is what I can say—on the subject of a child, I believe that they deserve stability, consistency, and love. Most other things come out in the wash if those foundations are present. Can your friend offer those things? If I were in your shoes (and if you asked to trade, I'd say no-thank-you), I would keep my personal opinion to myself and let the logic do the talking. When those courts come asking, I would tell them what you feel is important in the life of a child, and put the question back on them. Ask them to get proof that this friend can provide those things. A tough one, certainly, but perhaps with a little grace and a few well-chosen words, the courts will suss out the truth, so you don't have to lose a friend and that child is in the safest place. Of course, if you have major concerns, with proof that the friend will be an unfit parent, I would hand over that information immediately, and if that's the case, this friend may not be the person you imagined him to be. This world does not need another child forced to fight for the shot at basic human rights due to a poor parental figure.



Dear Alice,
I recent had a casual friend set up a business meeting between myself and another person supposedly in my industry. It turns out at this meeting that the other person is not very professional nor operating in the industry on even close to the same level that I am. I was even willing to help mentor or advise them and they took offense at the suggestion that they needed it. I simply excused myself from the meeting and left. I feel that was the appropriate response but some other people seem to think otherwise. What do you think? -- Get off my coattails in Southwest

DEAR COATTAILS: I think that your ability to keep a level head and excuse yourself politely when you found that the business meeting was not mutually beneficial and that the expectations for the meeting were different is admirable. Lesser folks would certainly have thrown a fit, or paraded their expertise in a boastful way. I advise the use of an agenda in advance to a meeting with an unfamiliar person to make sure that everyone has mutual goals and information to work from. But really, darlin', just brush it off. Politeness always prevails.


ATTENTION LOCAL BUSINESSES! If you would like to extend your expertise in an area of self-improvement, crafting, fashion, how-to's or fix-its, I promise to bat my eyelashes until you get a little publicity. Email me!


Alice Gable is a big city girl recently freed from a small town world. She might not know it all—but she's on a mission to find out. She hates long walks on the beach and slow jazz, but does like a good cup of coffee. If you have a question you'd like Alice to answer or a how-to you'd like to volunteer for, please email her at <cute random email addy>
OOC: Email serwendipitous@gmail.com or see Wendi.