Shakespeare in Washington Inspires Unusual Performances

TO BE OR NOT TO BE may be the world's most famous question—but for six months, THE ONLY PLACE TO BE IS D.C. for this spectacular celebration of William Shakespeare's influence on great culture and entertainment.
For more than 400 years, Shakespeare's plays and poetry have
resonated in the world's consciousness. His works have persisted through centuries of theatrical interpretations. They've inspired classic ballets, operas, and symphonic suites and been transformed through the lens of modern themes and settings. From film and Broadway musicals to fashion and the visual arts, his imprint can be found everywhere.
Now, Washington will revel in the genius of Shakespeare through more than 100 magnificent presentations by more than 60 arts organizations. So whether you know all the sonnets by heart or are discovering his work for the very first time, Shakespeare in Washington will bring you closer than ever to the man they call "The Bard."
This celebration was conceived by Michael M. Kaiser, President of the Kennedy Center, and is curated by Michael Kahn, Artistic Director of the Shakespeare Theatre Company.
The Shakespeare in Washington festival is designed to showcase the Bard's influences both on and off the stage and you'll find a great variety of performances to enjoy—both the expected and the unusual. "Hamlet" gets a traditional staging under Artistic Director Michael Kahn at the Shakespeare Theatre Company (Jun. 5- Jul. 29). At Signature Theatre, the story of the melancholy Dane is presented in Hebrew by the Cameri Theatre of Israel (Mar. 6-11). Synetic Theatre's "Hamlet…The Rest Is Silence" (Jun. 2007) takes an innovative approach, telling the story without any words, through movement, music and light.
If you're looking for a different take on 'Macbeth", the National Museum of the American Indian plays host to Juneau, Alaska-based Perseverance Theatre's highly-acclaimed production. Starring an all-Alaska Native cast, the production uses Tlingit-inspired sets and costumes and incorporates Native language and music (Mar. 8-18). Placing the familiar play in another culture, students from DuVal High School in Prince George's County, Maryland will perform "An African Macbeth" at the University of Maryland-College Park (Mar. 7). The Washington National Opera will stage Verdi's operatic interpretation (May 12-Jun. 2).

---
---
ADVICE COLUMN:
Monica Garrett
---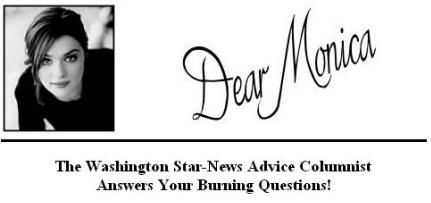 Dear Monica,

My husband wants to go on a dangerous expedition. I am so afraid he will never come home. He has always been an outdoor lover and has taken many trips but this trip will tax him maximally. People have died. He says he wants to go now before we have children. What can I do to stop him?

Sincerely,
Wife of a Cliff Diver


Dear Wife of a Cliff Diver,

I am not sure you can. You knew he had this tendency when you married him. People do not give up the things they do just because they get married. No wedding ring has turned a roamer into a faithful husband or a dare devil into a cream puff. I applaud his wisdom in understanding that once he has children these expeditions are history. Children need security. Wives, on the other hand, usually know what they are getting into.
---
---
ENTERTAINMENT NEWS:
---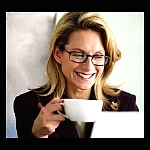 From regular columnist
Kitty Whittier
---
It's a purrfect Spring day, my lovelies, though I must sadly confess that March has been a quiet month in the city, newswise, for this intrepid kitty. All of the usual suspects appear to be behaving themselves for now, or hiding from the all-seeing eye of the press. We will have to watch more closely now, to get our regular allotment of dish!
You simply must attend the Shakespeare Festival at the Kennedy Center and other venues mentioned elsewhere in this edition. You have six months, so no excuses. Methinks thou doth protest too much!
You won't catch the Kittier at an Irish Pub on the 17th, no thank you. If we wanted green food, loud music and drunken American hooligans, we would simply attend some random fraternity party at one of the city's numerous universities. We are far too old for such shenanigans.
Perhaps with the coming of Spring will be a new crop of scandals to share with my beloved readers. You know where to call if you spot anything yummy that warrants my special attention.
Until next time!

---
---
CLASSIFIED ADS
---
Needed, Freelance Researcher, Old books and Antiques, Latin background a plus.
Contact TTI at (410) 555-6814 or apply in person at 1764 Bolton St., HighGarden Suites #301, Annapolis, MD
(OOC: Please see Ice if your PC responds)
---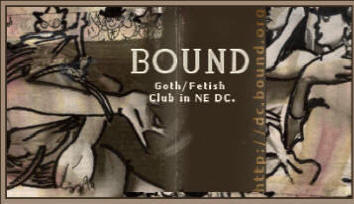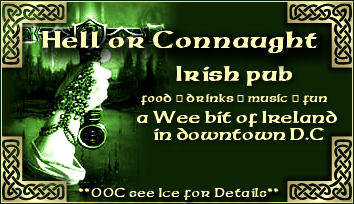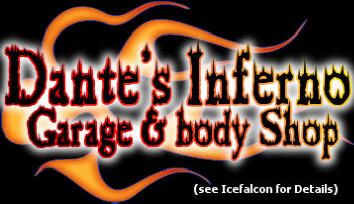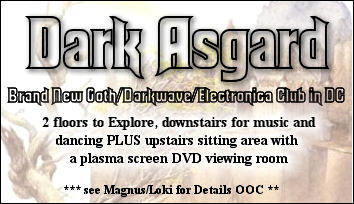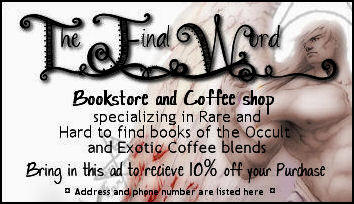 Fluorescent animals surprise Gulf of Mexico divers
By Maggie Fox, Health and Science Correspondent

Fluorescent shrimp, crabs that detect ultraviolet light in the sunless depths, and an unseen creature that tumbled a massive camera have surprised scientists diving in the Gulf of Mexico.
Their expedition has turned up an array of creatures that use fluorescence in ways previously unknown to science, the team, a collaboration of federally funded researchers, said on Friday.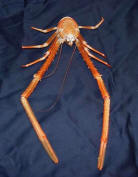 The discoveries suggest that even animals living with no light from the sun can detect and use light, perhaps for hunting, mating and other purposes, the researchers report on their Internet Web site, http://oceanexplorer.noaa.gov.
"This is incredible because these animals are found down at 1,800 feet," said chief scientist Tammy Frank. "As far as we know there is no ultraviolet light down there," Frank added in a telephone interview from aboard the team's ship in the Gulf of Mexico. "If they are ultraviolet-sensitive the question is what the heck are they doing with it?" said Edith Widder of the Harbor Branch Oceanographic Institution in Ft. Pierce, Florida and the private Ocean Research and Conservation Association. "We are barely scratching -- I was going to say the surface but the bottom would be more appropriate."
The National Oceanic and Atmospheric Administration funded the expedition to sites around the Gulf of Mexico. The researchers had to divert to Galveston, Texas to avoid Hurricane Katrina, but left an undersea camera to record the undersea activity. Frank said she designed a special red-light camera that would not frighten away or blind the extremely light-sensitive creatures that live so far from the light. "We are exploring the deep sea with new eyes," Frank said. "Traditionally, most of seep sea operations use bright white light, which really disturbs the behavior of the animals."
The camera weighs about 200 pounds (90 kg) and is mounted on a 7-foot (2-meter) apparatus, so the researchers felt safe leaving it unattended. When they returned after the storm had passed, the camera was upside down. "We don't think it was Katrina because it was 1,700 feet down," Widder said. "I think a large predator got hold of it."
The team has also photographed a fluorescent shark and said large sharks have attacked the camera in the past.
Mike Matz, of the University of Florida's Whitney Laboratory in St. Augustine, said a variety of animals have been found to use fluorescence, usually only seen in animals living at shallower depths. "Those are little crustaceans, shrimp and planktonic copepods," he said. The light-emitting effect is seen in their eyes, on spots on their tails, at the leg joints and on the antennae," he said. "It is fairly spectacular looking," Matz said.

---
---
INTERNATIONAL NEWS
---
Serbian Vampire Hunters Prevent Milošević Come-back
Drive 3ft stake through dictator's black heart
by Lester Haines
BELGRADE, SERBIA -- Serbian vampire hunters have acted to prevent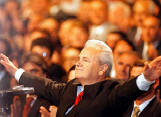 the very remote possibility that former dictator Slobodan Milošević (Слободан Милошевић) might stage a come-back - by driving a three-foot stake through his heart.
According to Ananova, the politically-motivated Van Helsings, led by Miroslav Milošević (no relation), gave themselves up to cops after attacking the deceased despot in his grave in the eastern town of Požarevac.
Milošević died of a heart attack in his cell back in 2006, while on trial in a UN war crimes tribunal for various unsavoury activities connected with the disintegration of the former Yugoslavia.
Miroslav Milošević said "he and his fellow vampire hunters acted to stop the former dictator returning from the dead to haunt the country". His team explained that the wooden stake had been "driven into the ground and through the late president's heart".

Modern Western burial methods usually call for at least a six-foot grave, so it is extremely unlikely that a three-foot piece of wood could even reach the grave, never mind penetrate a coffin.
Even if the heart had not already decomposed, the embalming and autopsy processes would virtually guarantee that the internal organs that still remained after almost a year could be located in one of many random positions within the body cavity.
Miroslav Milošević later confessed the gesture was politically symbolic only, as Slobodan Milošević's gravesite is overcast in concrete with a thick engraved marble inlay on top.
Slobodan Milošević's Socialist Party of Serbia naturally condemned the desecration, while his daughter-in-law Milica Gajic said she "planned to sue the vampire hunters and accused the police of failing to protect the grave properly". ®
---
"New" Ireland's Changes Go More Than Skin Deep
Country long known as a land of emigrants is transformed by migrants
By Daniel Strieff, Reporter MSNBC
PORTLAOISE, Ireland - As revelers worldwide celebrate St. Patrick's Day with a pint of Guinness, dyed-green milk or visions of red-bearded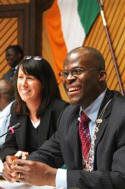 leprechauns, it's a good bet that few of them will have Rotimi Adebari in mind.
But, for those seeking an authentic vision of today's Ireland, perhaps they should.
The election last year of Nigerian-born Adebari as mayor of Portlaoise is the most prominent manifestation of the changes sweeping this island, which is rapidly evolving from a land of emigration into one of immigration, where at least 1 in 10 people is foreign-born.
This transformation — fueled by a decade-long economic boom and relatively liberal immigration laws — means Ireland has gone from Western Europe's poorest and most homogeneous country to one of its wealthiest and most cosmopolitan in little more than a generation.
For the first time in its history, Ireland, which sent hundreds of thousands of emigrants to the United States, Britain and elsewhere, is wooing large numbers of migrants. That has forced the country — and communities like Portlaoise, a commuter town of 14,000 residents 50 miles southwest of Dublin — to get a crash course in integration.
"When I came into this town in 2000, I could count the number of people that are born outside of Ireland that live in Portlaoise," said Adebari, the country's first black mayor. "But today it is a completely different story. The town has become so diverse, so multicultural," he said.

Fastest-growing country in Europe
The Irish economy now depends on migrant workers — whether Asian medical personnel, Eastern European service staff or Polish construction workers. "Whether or not we should have migrants in Ireland is not the debate in Ireland now. It's actually all about can we retain the medium- to highly skilled migrants that we have," said lawmaker Conor Lenihan, who was appointed as the country's first-ever integration minister in 2007.
In the 1980s, Ireland was barely able to retain its own. The unemployment rate was around 18 percent and thousands of young people were fleeing the country annually for Britain, the United States and elsewhere. The endless conflict in Northern Ireland along with divisive battles over social issues in the south combined to scare off the best and brightest.
But boosted by generous tax benefits for multinational companies, the Irish economy roared to life during the nineties, earning the moniker, the "Celtic Tiger." Between 1995-2000, the economy expanded at an astounding average of 9.5 percent per year; now it has eased to a still robust rate of 4-5 percent annual growth.
The newest arrivals have helped boost Ireland's population — now at around 4.2 million — to its highest level since 1861. It's the fastest-growing country in Europe. "I think attitudinally one of the issues that people took some time to adjust to was the idea that migration would be a permanent feature of Irish life," Lenihan said. "People have now moved on and realized that they're here to stay, they're here for a long time. We've got to in a sense adjust ourselves to that reality."
Under the most generous immigration laws in Europe, Ireland until 2003 automatically granted citizenship to foreign parents of Irish-born children and, until 2004, gave citizenship to Irish-born children whose parents were not Irish nationals.

A nation transformed
As the number of asylum applications and economic migrants rapidly began to increase, both laws were rescinded — the former by the high court in 2003 and the latter by national referendum the following year.
Although official statistics vary due to difficulties in monitoring movement within the open-bordered European Union, estimates for the number of Eastern Europeans — mostly Poles — living in Ireland range from 150,000 to 300,000. Since the mid-1990s Ireland also accepted an estimated 30,000 asylum seekers, especially from Nigeria, Africa's most populous country.
Compared to the United States, the influx may not appear significant. Ireland remains nearly 95 percent white. But in a country that had virtually no people of color just a couple of decades ago, the change on the ground is unmistakable.
Parts of north Dublin, chiefly Parnell Street and nearby Capel Street, are developing into the country's first Chinatown. Just yards away, on Moore Street, the Dublin brogues of the loquacious market vendors would be familiar to generations past, but the noodle shops that line the street would not.
On the south side of Dublin's River Liffey, the influx of young people from across Europe has helped the emerging arts and cafe culture in the trendy, cobble-stoned Temple Bar district rival its better known continental counterparts.
James Joyce once wrote that a "good puzzle would be [to] cross Dublin without passing a pub." Soon, the riddle may be to cross the city without passing a Polish shop, Asian restaurant or Italian espresso bar.
The changes have extended to the entire country
In Portlaoise, Adebari has tried to head off any future problems by starting a consultancy providing advice on getting immigrants and local residents working together. He hopes that his historic mayoralty will be a model for socially disadvantaged people in Ireland and beyond.
"I took on board the norms and values of the host community without throwing away my own norms and values as well," Adebari said.
"Now I have two cultures, I can come in and out," he said.

Straw in the wind
Lenihan, the government minister, called Adebari's election an "interesting straw in the wind" regarding public sentiment toward immigration.
"He's as clever and as ingenious as any Irish politician and I think that's what comes across to the public down there, that this guy — forget about his color, forget about where he's from or his ethnic identity — this man can deliver the goods in terms of his service to his constituents and his service to the town," Lenihan said.
Some observers point out that immigration — whether by Celts, Normans, Britons or Vikings — is not a new phenomenon for Ireland.
In fact, the figure who arguably had the greatest single impact on the course of Irish history was a bearded, snake-charming holy man who hailed from Roman-ruled Britain.
His name was St. Patrick.

---