FINAL WORD RE-OPENS AFTER BREAK IN
SOUTHWEST - Things are finally returning to normal for the paranormal at the small occult bookstore, the Final Word, in Southwest D.C.

After it was broken into and patrons attacked the owner, Professor Eriond Tekenduis, closed it down for repairs. It re-open this week with not only a new look but also a new and improved coffee bar.
Patrons were greeted with new furniture and sitting areas for them to use and an assortment of coffee from the plan black to exotics like white chocolate cinnamon lattes.
Mr. Tekenduis was quoted saying "All things happen for a reason. This was fates way of saying my coffee was bad and the shop needed an upgrade."
The Grand Re-Opening of the Final Word was on December 21st to coincide with the Yule holiday.
---
GREEN TURTLE MAKES RARE VA DELIVERY
Protected Green Sea Turtle Makes First Documented Egg-Laying Case in Virginia
The Associated Press

A green sea turtle dug out a nest in the sands of this resort beach and left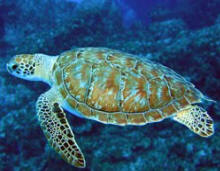 124 eggs the first documented case of the protected turtle laying its eggs in Virginia.
State and federal wildlife officials are agog by the discovery along a stretch of beach lined by vacation cottages.
"It was just kind of a big 'Wow!' for me," said John Gallegos, a senior biologist at Back Bay National Wildlife Refuge.
"It is a mind blower," added refuge director Jared Brandwein.
The green sea turtle, which is protected by the U.S. Endangered Species Act, commonly nests in southeastern Florida, although a few females previously have laid eggs on beaches as far north as North Carolina's Outer Banks.
The turtles, named for their greenish body fat, weigh 250 to 450 pounds as adults. They are herbivores, feeding mainly on sea grass and algae, and do not begin reproducing until they are 20 to 50 years old.
While it's possible that green sea turtles have nested in Virginia before, there was no record of it until now, said Sandy MacPherson, national sea turtle coordinator at the U.S. Fish and Wildlife Services office in Jacksonville, Fla.
A team of refuge staffers transplanted in coolers the leathery eggs to a secluded site on the refuge Tuesday morning, one day after the turtle laid them at high tide.
They moved the eggs in coolers and reburied them with sand from the original nest, placing them inside a heavy wire mesh cage to protect the eggs from predators such as raccoons and foxes. They used umbrellas to shade the eggs from the sun while Gallegos carefully tried to replace them in the same order as the mother laid them.
"It makes sense to mimic as much as you can the natural nest," Gallegos said.
While green sea turtles in Virginia are rare, nesting loggerhead turtles are fairly common, with an average of three or four a year nesting on or near the refuge since the 1980s. This summer, six loggerheads have laid eggs there.
Populations of the green sea turtle off Florida and Mexico's Pacific Coast are considered endangered.
Mature females lay eggs once every two or three years, and they are known to congregate in lush grass beds off the Florida Keys and Bermuda when they aren't nesting. Juveniles spend time in the Pamlico Sound in North Carolina.

Copyright 2005 The Associated Press. All rights reserved.

---
POLICE NEWS
---
U.S. MARSHAL'S OFFICE CLOSES FILE ON ARSON CASE
CAPITAL HILL - U.S. Marshal Ethan Redfeather in a press conference on Tuesday stated that the Redmond Holding Corp. fire that was believed to be a cause of arson was a "Freak Accident" brought on by a previously unknown medical

conditions possessed by the victims.
During a state of delirium from a high fever the arsonist likely accidentally set the building on fire, trapping the people within do the rapid spread of flames, "This has been a horrible tragedy and the U.S. Marshal service sends our deepest sympathies to the families of those lost."
Marshal Redfeather praised the hard work and diligence of his teams and the DCPD medical examiners office who aided his office in the discover of the virus.
Due to the Examiner's quick discovery only one Marshal was found to have contracted the illness, and is in stable condition under medical treatment, all other's have been cleared for return to duty with a clean bill of health.
Redmond Holding Corp is now attempting to contact the family's of those who perished in this accident and make restitutions.
---
TWO LITTLE DEATH PATIENTS ESCAPE FROM ST. ELIZABETH'S HOSPITAL - CITY ON ALERT
SOUTHEAST- Established in 1855 as the Government Hospital for the Insane, St. Elizabeth's Hospital has had a distinguished history in the treatment of the mentally ill. The Hospital's early mission, as defined by its founder, the leading mental health reformer Dorothea Dix, was to provide the "most humane care and enlightened curative treatment of the insane of the Army, Navy, and District of Columbia."

In the 150 years it has been in service. It has had very few patient's escape and even fewer who have literally up and disappeared in the middle of the night. Until now anyways.
On Christmas morning when Delores Santiago, the morning shift nurse, was doing her med pass she noticed two patients missing from their rooms. She checked the over night pass logs and found they were not allowed off the hospitals premises due to their violent nature. Shortly after 9am DCPD got the call about the missing patients, Hank Bukalski and Stuart Dixon.
Security cameras for the 300 acres hospital complex do not show Bukalski nor Dixon leaving their rooms once they were locked in at 7pm. There is no evidence of break in nor extraction from the facility. The case is currently under investigation and the D.C.P.D. asks that if these dangerous men are seen please do not approach them. Call 911. DCPD is requesting anyone with information to please contact them as soon as possible at Crime Stoppers (202) 555-1000.
HOSTILE GRACKLES ATTACK PEOPLE IN HOUSTON
HOUSTON - Like a scene from the horror movie "The Birds," large black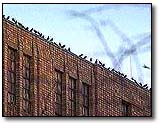 grackles are swooping down on downtown Houston and attacking people's heads, hair and backs.
Authorities closed off a sidewalk after the aggressive birds - which can have 2-foot wingspans - flew out of magnolia trees Monday in front of the County Administration Building.
"They were just going crazy," said constable Wilbert Jue, who works at the building. "They were attacking everybody that walked by."
The grackles zeroed in on a lawyer who shooed a bird away before he tripped and injured his face, Jue said. The lawyer was treated for several cuts.
It appears that the birds are protecting their offspring. On Monday a young grackle had fallen out of its nest and adult birds attacked people who got too close, Jue said.
Another bird attacked a deputy county clerk.
"I hit him with a bottle," said Sylvia Velasquez. "The other birds came, and one attacked my blouse and on my back."
Two women came to help her after she fell to the ground, and the birds attacked them as well. The group escaped by running into the building.
"This is a very Hitchcock kind of story. Very Tippi Hedren," said downtown worker Laura Aranda Smith, referring to one of the stars of Alfred Hitchcock's move "The Birds."
For the past few years, the great-tailed grackles have attacked people in the late spring, said Jue, who works in the building.
The great-tailed grackles are native to Mexico and South Texas but have spread to Houston, Burkett said. The males have long tails and are black with an iridescent sheen. They are 15-18 inches long and have a wingspan of 15-25 inches.
---
INTERNATIONAL NEWS
---
ROMANIA - Hospital officials are investigating after a doctor was punched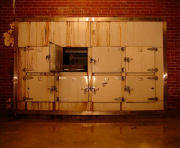 by a 'corpse' in the morgue. The doctor had to be treated for shock after he was punched by teenager Bogdan Georgescu. It happened after the doctor thought he saw Mr. Georgescu move and bent over to investigate.
The youngster, 16, had been taken to the morgue at Brasov County Hospital in Brasov, after collapsing and showing no signs of life. He was declared dead on arrival and his body moved to the morgue.
He said: "I woke up and had no idea where I was, I looked to the left and to the right and saw a dead woman on either side of me, and then I saw this man coming towards me in a white coat." I just panicked. I thought he was going to kill me."
The youngster, from Fagaras, is now being treated in the neurological ward to find out the cause of his collapse. He said: "The last thing I remember is drinking coffee with my brother, and then I woke up in the morgue." The doctor was allowed to take time off work after being treated for shock.
---
---
ENTERTAINMENT NEWS:
GOSSIP COLUMN
---
LOKI HOLDS CHRISTMAS CONCERT AT CAESAR'S PALACE
LAS VEGAS SUN - Seems Loki is making up for all that lost time on the stage. Fans were treated to a performance at Caesar's Palace in Las Vegas on

Christmas when Loki took the stage and gave them one hell of a show, complete with indoor firework displays and a laser light show.
Internet fan web sites began to swarm early November as the rumors of the performance came to light. By mid-November Loki's publicist had announced the rumors to be true on Loki's website as TicketMaster opened up the sale of the tickets.
When asked how it felt to take the stage again so soon after his performance at his club, Dark Asgard, in Washington D.C. Loki said "Wild, Completely wild, I'm loving it."
Rumors are still afloat about a mysterious blonde in Loki's life who he's been seen with on a couple occasions. Loki's publicist says it is purely musically related.
---
THE DUCHESS WEDS IN ENGLAND
Entertainment Weekly - If she'd been told when she came to the US that

she'd be swept up into a fairytale relationship, we often wonder if it would have brought her to the US sooner. Of course I don't think she would have believed it herself. Given that she met her now husband, who is also from England, in the Occult bookstore he operates the first night she was in the city.
"I was looking for something to inspire my US Debut album, and I found Eri instead." she commented when press caught up with her in London hours before her wedding at the Church of England.

The Press got another surprise when the found out that Eriond Tekenduis is actually Fredrick Bryce, of London's Bryce Banking and Trust. "It's a pen name he's used since college. " Claudette Bryce, Fredrick's mother, commented, "We don't call him Eriond at home, that's for sure."
The wedding went as planned, though the press was not allowed in for coverage no one ran out in pink makeup smeared tears. The Bride, whose hair and make up was required to be normal for the ceremony in the church, wore a White, yes readers you read that right, Eve of Milady gown by designer Amalia Carrera, pink stoned choker with matching earrings and carried a bouquet of 3 dozen long stem pink roses. The groom wore a simple black tux. The couple honeymooned near Stonehenge in the English countryside where Amelia's family resides.
---
CLASSIFIED ADS
---