93.1 FM (THE BLADE) HOSTS LIVE SHOW FROM DC GHOST CRUISE
MIDTOWN -- WBDE (93.1 FM, "The Blade") hosted its first annual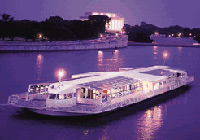 ghost ship tour Halloween weekend. The tour which went up and down the Potomac featured stories about some of the prominent ghost stories from D.C.'s history. On staff for the live broadcast was WBDE's Nyx and Professor Eriond Tekenduis from George Washington University who specialized in Paranormal studies. Other party goers were dressed in Halloween costumes and Nyx handed out promo material as well as autographs to his night time radio show's fans.
---
GWU NEUROSURGEON JACOB OTT LEAVES D.C. FOR GREENER PASTURES

When Dr. Jacob Michael Ott came to D.C. he was just 15 years old. The son of Slovakian immigrants, he became instantly fascinated with medicine and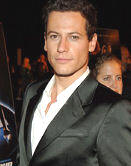 particularly the workings of the human brain when his father was diagnosed with Parkinson's disease.
One of the leading minds behind the Deep Brain Stimulation (DBS) device with other doctors at Georgetown University Hospital, they were able to give hope to the estimated 60,000 new cases diagnosed each year, joining the 1.5 million Americans who currently have Parkinson's disease.
But it seems Dr. Ott has decided to take his magic elsewhere. Sources who are close to the doctor will not divulge his reasons for why he decided to up and move from the prominent medical centers here in D.C. to a smaller medical community, only saying he felt that it was the best thing for him to do at the time.
Rumors suggest that the city holds too many memories for him. Earlier in the year Dr. Ott's long time companion, Christina Delamoire, was killed in botched robbery. Recently, Ott has been seen socially with D.C's head Coroner, Ms. Jordan Forrester, but a spokesman for the Coroner's office said that Dr. Ott's and Dr. Forrester's relationship was purely business. Forrester was the coroner on Delamoire's case.
---
POLICE NEWS
---
PROMINENT POLICE PSYCHOLOGY CONSULTANT ANALYZES LAIKE DEATH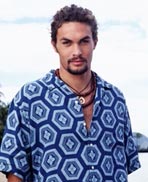 NORTHEAST -- DCPD Detective Antoine "Tony" Laike's death was a mystery. On a medical leave of absence following a second mishap in the line of duty, he died suddenly while hospitalized.
Coroner's reports show that Laike appeared to have swallowed his own tongue but there was no medical reasoning behind it. Laike's chemical tests came back negative and he had no history of seizures where this is a common cause of death if interventions not preformed. Laike's death is currently being listed as an Unknown Cause, which has baffled not only the DCPD Coroner but the Law Enforcement community as a whole.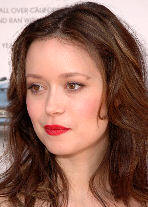 When cops are baffled they seek out experts. They consulted a professor at the local George Washington University, Dr. Moira Reynolds, who specializes in profiling of the criminal mind and now teaches her talents to local students interested in Criminal Psychology. Reynolds has been called to work on numerous cases involving serial killers in not only the DC/Maryland area but also in Florida and England where she studied.
Ms. Reynolds is still working on the case, reviewing Laike's upbringing and performance records, but she did say she feels Laike was a deeply troubled man after the death of his partner and that suicide should not be ruled out as a cause of death.
---
GWU STUDENT BUKALSKI CHARGED IN NEAL MURDER
NORTHWEST -- In a public announcement on Tuesday, Assistant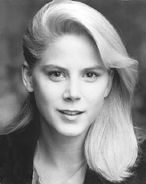 District Attorney Macy Shapiro said that there was overwhelming evidence pointing to Hank Bukalski in the Harmony Neal case.
In several interviews conducted by the DCPD after his arrest Bukalski said he knew of Harmony and that she "Got what she deserved". Fellow students questioned say that Bukalski was a loner and once asked Neal out only to be turned down by her on several occasions.
Bukalski's Attorney Cindy Fry was quoted saying that "[Hank] was a seriously disturbed loner, that he's undergoing psychiatric evaluation at this time, trying to determine his mental state." Fry is going to attempt to plea not guilty by reason of insanity at the pre trial set for October 15th.
Due to the public outcry and nature of the case, speculators say that this will be a closed court case. a Candle-lit vigil is being planned by the Student Body Union October 5th in Harmony's memory.
---
DIXON LAST KNOWN "LITTLE DEATH" SURVIVOR
NORTHEAST - Stuart Dixon, 24, of Adams Morgan, remains a ward of the city, in custodial care at St. Elizabeths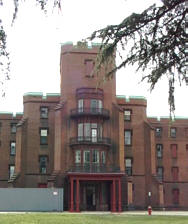 Mental Institution. He is the last known survivor of a highly dangerous designer drug that ran the streets for a short period of time, referred to as "Little Death." Dixon has no known family or next of kin, and is currently unable to conduct his own affairs due to mental trauma from the effects of the drug.
Dixon has no health insurance, and is currently being cared for by public money, being a persistent drain on taxpayer resources. However, unlike some mentally ill patients who have been discharged and often subsequently become homeless, Dixon is considered a threat to public safety and therefore cannot be released on his own recognizance.
He is currently said to be diagnosed as Schizophrenic, with delusions of Grandeur. Dixon also has clinical depression as a side effect of coming down from the high of the unidentified drug, and has been on and off of Suicide Watch for weeks. Doctors have determined that it has some relationship to the drug using up all his serotonin on the highs.
Established in 1855 as the Government Hospital for the Insane, St. Elizabeths Hospital has had a distinguished history in the treatment of the mentally ill.
---
POLICE RAID WAREHOUSE IN SOUTHEAST TURNS OUT TO BE TRAINING EXERCISE
SOUTHEAST - Several incidents have been reported over the last couple of weeks, of strange occurrences at a local warehouse down near the Waterfront district in Southeast DC. Due to certain sensitive aspects of the training exercise, according to the Department of Homeland Security, local residents were not able to be informed that DC SWAT Units were conducting a vital cross-training exercise using a recently purchased abandoned building secured for this express purpose.
Outgoing police chief Charles Ramsey told reporters how proud he is of the performance of the officers involved, and that they are training DC's Finest to handle any future security threats, as various tensions escalate in Washington due to the political climate.
The warehouse in question is located just six blocks from the Capital. Residents had reported traffic snarls, gunshots, break-ins and gang activity as unusually heavy in that block, even relative to the normally heavy crime associated with much of Southeast Washington.
Whether this exercise was meant to combat the trouble or was mistaken for it seems moot now, as things have returned seemingly to business as usual.
---
GWU SCHOLARSHIP STAR FOUND DEAD AFTER GHOST CRUISE
NORTHWEST -- Just weeks after receiving the GWU

scholarship for his performance in Baseball, DC resident Clyde Wilkins was found dead of what the coroner's office is listing as Coronary Failure, secondary to acute fright.
Wilkins' blood tests results came back with not only an excessive amount of alcohol in his system, but also an above average amount of adrenaline.
Crime Scene technicians who were on the scene said that Wilkins's body was found when staff was cleaning up the ship following the WBDE (93.1 FM, "The Blade") Haunted D.C. ghost ship tour.
Wilkin's body had no signs of foul play, but he was "White as a Ghost," one tech commented. The body of the GWU baseball star was found below deck in one of the state rooms, laying on a bed, arms crossed over his chest.
The police are in the process of getting the ship's manifest so they can question the other tourists about this case, but anyone with information on this case is asked to please call (202) 555-1000.
---
Death of Two Local Teens Goes Cold Case; Police Dismiss as Freak Accident

LEESBURG, VA -- The unusual and sudden unexplained deaths of two

local Lovettsville teens have been ruled to be freak accidents by a cooperating team from the Loudoun County, Washington DC and FBI Coroner's Office staffs.
Officers first responded to a call on the death of rising college freshman Rygel Creighton, living in DC and about to start matriculating at GW. A couple of days later, officers were called to investigate the body of Sandi Duncan, another rising college freshman from Lovettsville who was interning in DC for the summer.
A joint investigation launched when similar traits were discovered between

the two crime scenes, and the Lovettsville High School and medical history connections were discovered between the two victims. The two teens shared a common physician, who could not be reached for comment, and whose medical records were reportedly damaged in an office fire a few weeks ago. Loudoun County police investigated the blaze as arson, and possibly withholding evidence, but found no concrete proof of such.
The deaths have been ruled to be coincidental freak cardiac-related events, although some sources point to reopening the cases once again due to their similarity to the death of GW Freshman Clyde Wilkins, who is not from Lovettsville nor a patient of Doctor .
---
Man Wakes Up With a Bullet in His Tongue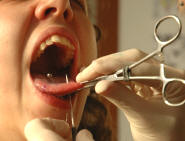 Jacksonville, Fla. (AP) -- Police say a man who woke up with a serious headache walked 12 blocks to a hospital with a swollen lip and powder burns. Doctors discovered the problem. 47-year-old Wendell Coleman had a bullet lodged in his tongue.
Coleman told police that a woman stuck a gun barrel in his mouth during a dispute around 2:30 Tuesday morning and that he heard the gun go off.
Police say Coleman then went home to sleep.
What authorities did with the bullet wasn't clear last night.
---
Driver's License Bill Concerns Groups

By SUZANNE GAMBINI, Associated Press Writer
WASHINGTON - A proposal to stop potential terrorists from getting a U.S. driver's license may turn the licenses into a national ID card or help the government track gun purchases, opponents fear.
Conservatives, civil libertarians, gun owners and others share such concerns about a House-passed bill that broadly rewrites the rules for licenses and is portrayed as an anti-terrorism tool. They fear that licenses, like Social Security numbers, could be used for purposes well beyond their original intent.

"Supporters of this don't seem to have the ability to look beyond how this system they are putting in place can change. They can't see how it can metamorphose into a national ID card," said Steve Lilienthal, director of the Free Congress Foundation Center for Privacy & Technology.
Lilienthal, whose think tank says it is politically and culturally conservative, asked what is there to stop the government from eventually requiring information about people's health, criminal backgrounds or gun ownership.
Larry Pratt, executive director of Springfield, Va.-based Gun Owners of America, says the bill "hands an open-ended blank check" to the government to collect information about people.
States can opt out of the requirements, but the bill would withhold money from states for driver's license improvements if they do.
In Montana, members of the state House are refusing to cede their driver's license authority to Washington. Last week, they approved a bill that prohibits the adoption of federal driver's license standards for noncommercial licenses.
___

On the Net: Information on the bill, H.R. 418, can be found at http://thomas.loc.gov

---
INTERNATIONAL NEWS
---

Smelly fungus sparks corpse hunt

BERLIN (Reuters) -- The odour given off by an unusually large fungus in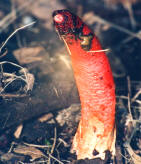 Germany was so foul that it sparked off a police hunt for a corpse, authorities say.
A spokesman for police in the eastern city of Dresden says following reports from local people about the smell, five officers and a sniffer dog went to investigate in a forest close to the German-Czech border.
"Then they discovered this gigantic stinkhorn," he said, referring to the foetid-smelling, oddly-shaped fungus with the Latin name Phallus impudicus. "Those things really do stink."
Police called off the search and retreated from the malodorous fungus, which German media said was over 20 centimetres long, much bigger than stinkhorns usually grow.
---
Man dies after 50 hours of computer games
South Korean left seat in Internet cafe only to use toilet, take brief naps
Reuters
Updated: 6:43 p.m. ET
SEOUL, South Korea - A South Korean man who played computer games for 50 hours almost non-stop died of heart failure minutes after finishing his mammoth session in an Internet cafe, authorities said on Tuesday.
The 28-year-old man, identified only by his family name Lee, had been playing online battle simulation games at the cyber café in the southeastern city of Taegu, police said.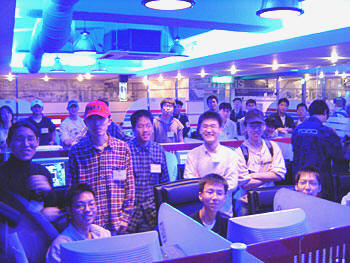 Lee had planted himself in front of a computer monitor to play online games three days ago. He only left the spot over the next three days to go to the toilet and take brief naps on a makeshift bed, they said.
"We presume the cause of death was heart failure stemming from exhaustion," a Taegu provincial police official said by telephone.
Lee had recently quit his job to spend more time playing games, the daily JoongAng Ilbo reported after interviewing former work colleagues and staff at the Internet cafe.
After he failed to return home, Lee's mother asked his former colleagues to find him. When they reached the cafe, Lee said he would finish the game and then go home, the paper reported.
He died a few minutes later, it said.
South Korea, one of the most wired countries in the world, has a large and highly developed game industry.
Copyright 2005 Reuters Limited. All rights reserved. Republication or redistribution of Reuters content is expressly prohibited without the prior written consent of Reuters.
© 2005 MSNBC.com
---
ENTERTAINMENT NEWS:
GOSSIP COLUMN
---
THE DUCHESS TO PERFORM AT HALLOWEEN FÊTE AT DARK ASGARD
WILL LOKI COME BACK TO THE STAGE?
When Amelia Wentworth, known to British fans as "the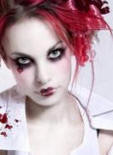 Duchess", came to D.C. she had no idea what she was in for. Shortly after arriving in the city with her sidekick "Hyde" -the laptop that programs most of her music- and her custom designed mallet that has become the staple prop at many of her shows, one of the first people she ran into was Loki.
Loki, who hasn't been on stage in nearly 2 years, following what many suspect was a nervous breakdown, instantly sparked up conversations with the newcomer and it appears as if they hit it off.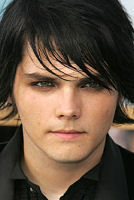 Plans for Amelia to play at Loki's nightspot Dark Asgard started up almost immediately and were set in motion. A last minute addition to the program for his upcoming Halloween Masquerade Ball were plastered on the marquee, the web site and on radio ads.
Loki's fans want to know though - Will the coming of the new beauty in Loki's life spark him to return to the stage and his eager fans?
Only time will tell, but if you are wondering where this leaves the mystery blonde from this summer, fear not - our eagle eyes have spotted the three of them together in Loki's private studio on more than one occasion, amidst persistent rumours of a side project album in the works.
---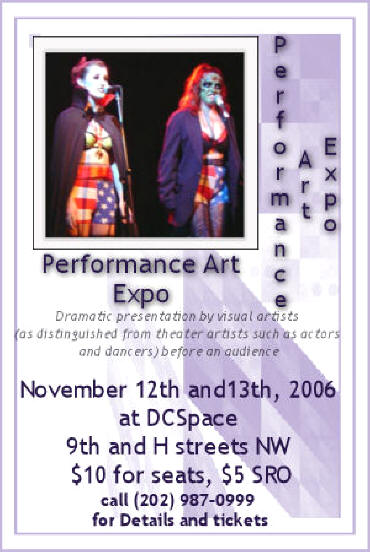 ---
---
CLASSIFIED ADS
---
PERSONALS - WANTED - Discreet, experienced professional Dom, well-versed in non-sexual pain and knife play, ritual scarification, and/or blood sports. Cleanliness, safety and incontrovertible discretion are mandatory. Evenings or very early mornings only, due to work schedule. Leave contact information, references and fee requirements at midnightmaster@gmail.com
---
HELP WANTED - Barista / Cashier for small downtown coffee shop and bookstore. Must be comfortable in a work environment prone to strange occurrences and eccentric clientele. Apply in person with resume at the Final Word, Southwest DC.
---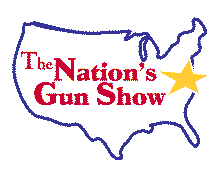 held at the Dulles Expo in Chantilly, VA!

2006 Show Dates November 17, 18 & 19

Show Times:
Friday 3 - 8 PM
Saturday 9 AM - 5 PM
Sunday 10 AM - 5 PM

Admission
Friday $15.00 for a 3 day pass or
$10.00 each day for adults
$5.00 for teenagers 12-17
Children under 12 are FREE with a paying adult.

---